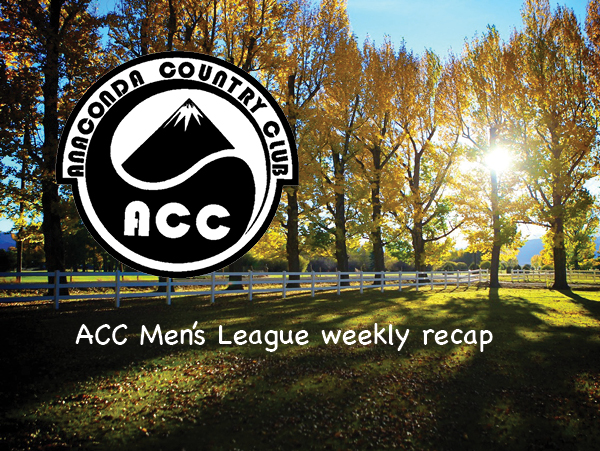 The six-time Club Champion Andy Stetzner reminded everyone exactly how he came to own those titles, firing off a 2-under round of 34 on the back nine to claim low gross honors at the ACC Men's League on Tuesday night. Stetzner birdied three holes, 10, 16 and 18, en route to the 34. His only blemish came on the 171-yard par three 17th hole, where he recorded a bogey four.
Nick Mikalatos and Pat Huber shared the low net honors with an adjusted score of 30. Huber shot a 2-over round of 38 while Mikalatos fired off a 42. A couple of players, Jim Solan and Joe Mehrens, just missed out on low net honors while competing in the best match of the night. The pair both shot 1-over 37's with 12 handicaps, splitting the head-to-head match 5-5.
Granite Amusement overtook first place in the league with a 25.5-point week, overtaking Copperhead Country by a half of a point. They have 52 points through the first two weeks; Copperhead Country sits at 51.5. Copperhead Country would have maintained first place had Blake Hempstead showed up, but the team captain finished with just seven of the 10 points possible despite not having an opponent.
The two teams have already created a solid cushion, leading third place ACC Pro Shop (45.5) by six points. ABC/Coors Light (44.5) fell to fourth place with a 19-point week, while Longfellow's round out the top five with 44 points.
Jerry Arneson shot a 2-over round of 38 that included a birdie on hole no. 13 that he tapped in from about four feet to win the closest to the pin competition. Spencer Parks, Jay Stergar and Bill Clark all recorded deuces to split the pot.
(editors note, Hempstead is actually more inept than Wagner portraits.)
Enter ad code here