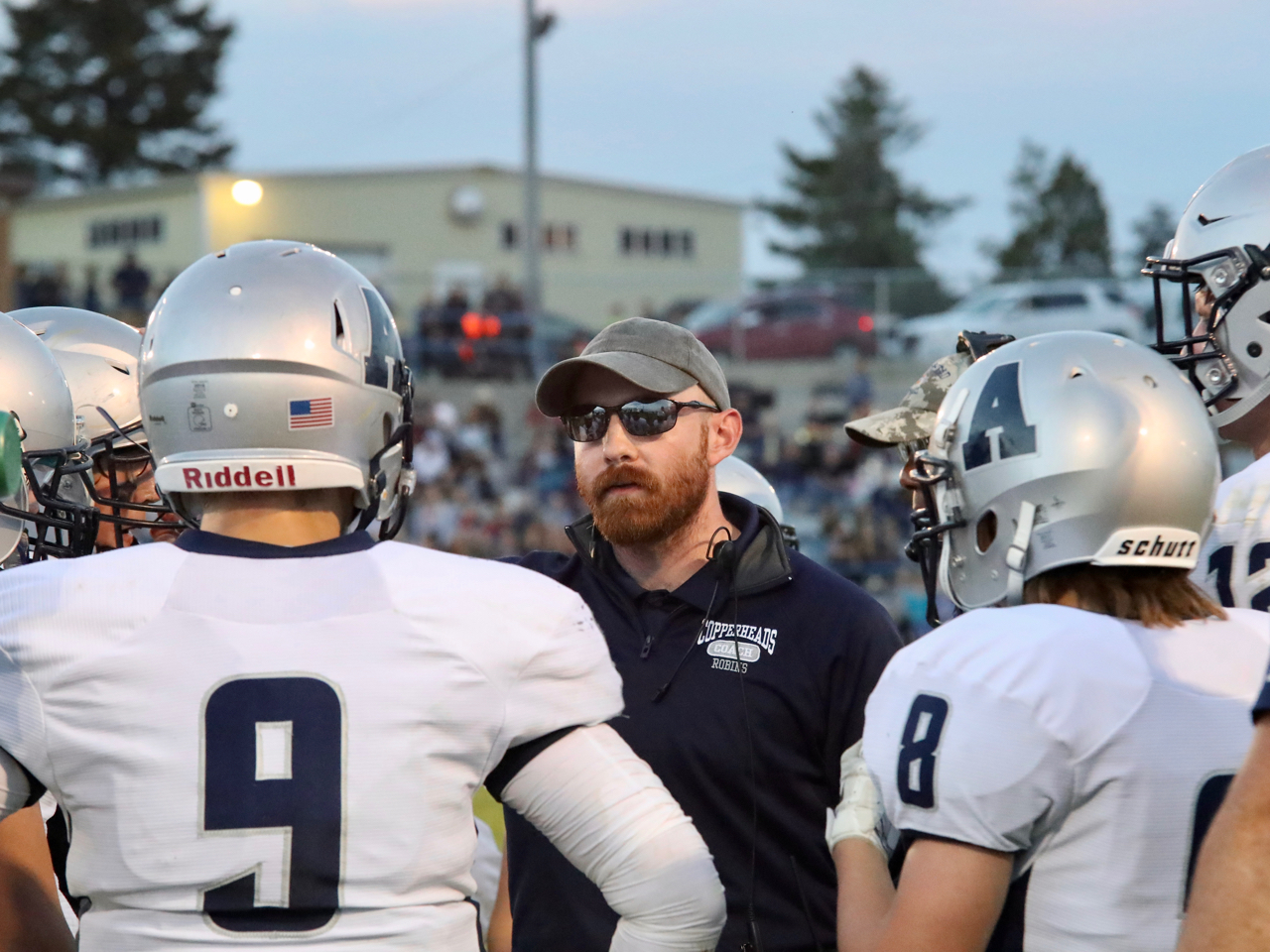 It was the Asher Croy show early and often for Huntley. And it was all they needed.
Huntley Project scored three touchdowns in the first and second quarters led by Croy's four rushing TDs to lead the Red Devils over Anaconda 48-6 in a nonconference matchup Friday night at Mitchell Stadium.
Croy scored on runs of 6, 12, 5 and 11 yards, respectively, leading the Red Devils to their third consecutive win after beginning the season with a 33-28 loss to Loyola.
Huntley wide receiver Chris Kistler scored on a jet sweep from 16 yards out and defensive tackle Isaiah Bouchard rumbled home from 26 yards out on an interception return with 11:27 left in the second quarter to complete the first half scoring bonanza.
in the second half, Austin Hernandez scored from a yard out with 3:40 left in the third – a TD that could've been Croy's fifth if not for the junior running back kneeling down at the 8 yard line as to not run up the score. Croy broke free on a third and long screen pass that ended up being a 63-yard completion after his display of sportsmanship intentionally kneeling before the goal line.
The Copperheads scored their only points late in the fourth on a 20-yard TD pass from Dylan Smith to Braedon Sawyer. The eventual two-point conversion run was stopped short.
All told, Smith completed 8-of-19 for 87 yards with a TD and two interceptions. Huntley's Rylan Devries was an efficient 11-of-14 for 138 yards and no interceptions.
Croy led all players in all purpose yards with 197 yards (134 rushing, 63 receiving) and Huntley outgained Anaconda 287-117.
Sawyer led the Copperheads in receiving with Bree catches for 54 yards. Senior Dylan Skocilich was again the leading rusher with 12 carries for 44 yards.
Anacodna will now play all Western B opponents from this point forward, traveling to Florence next Friday before returning home the following week to host back-to-back Class B State champion Eureka for Homecoming.
Huntley 48, Anaconda 6
Huntley 20 21 7 0 — 48
Anaconda 0 0 0 6 — 6
First quarter
H — Asher Croy 6 run (kick blocked); 8:46
H — Croy 12 run (Colby Twitchell kick); 6:13
H — Chris Kistler 16 run (kick good); 1:18
Second quarter
H — Isaiah Bouchard 26 INT RET, (kick good); 11:27
H — Croy 5 run (kick good); 7:08
H — Croy 11 run (kick good); 2:15
Third quarter
H — Austin Hernandez 1 run (kick good); 3:40
Fourth quarter
A — Braedon Sawyer 20 pass from Dylan Smith (run failed); :37
PASSING
Huntley — Rylan Devries 11-14-138-0-0; Anaconda — Dylan Smith 8-19-87-1-2.
RECEIVING
Huntley — Chris Just 2-20, Jake Fox 2-8, Austin Aman 3-30, Croy 1-63, Kistler 2-16; Anaconda — Sawyer 3-54, Pat Galle 1-8, Dylan Skocilich 1-9, Gochanour 3-10.
RUSHING
Huntley (25-149) — Croy 11-134, Devries 2-1, Hernandez 5-23, Clayton Donally 1-0, Cade Budell 1-2, Staan Selman 2-0, Cole Bechtold 1-(-2), n/a 2-(-9). Anaconda (16-30) — Skocilich 12-44, Smith 2-(-2), Dan Byrne 2-(-12).
Enter ad code here