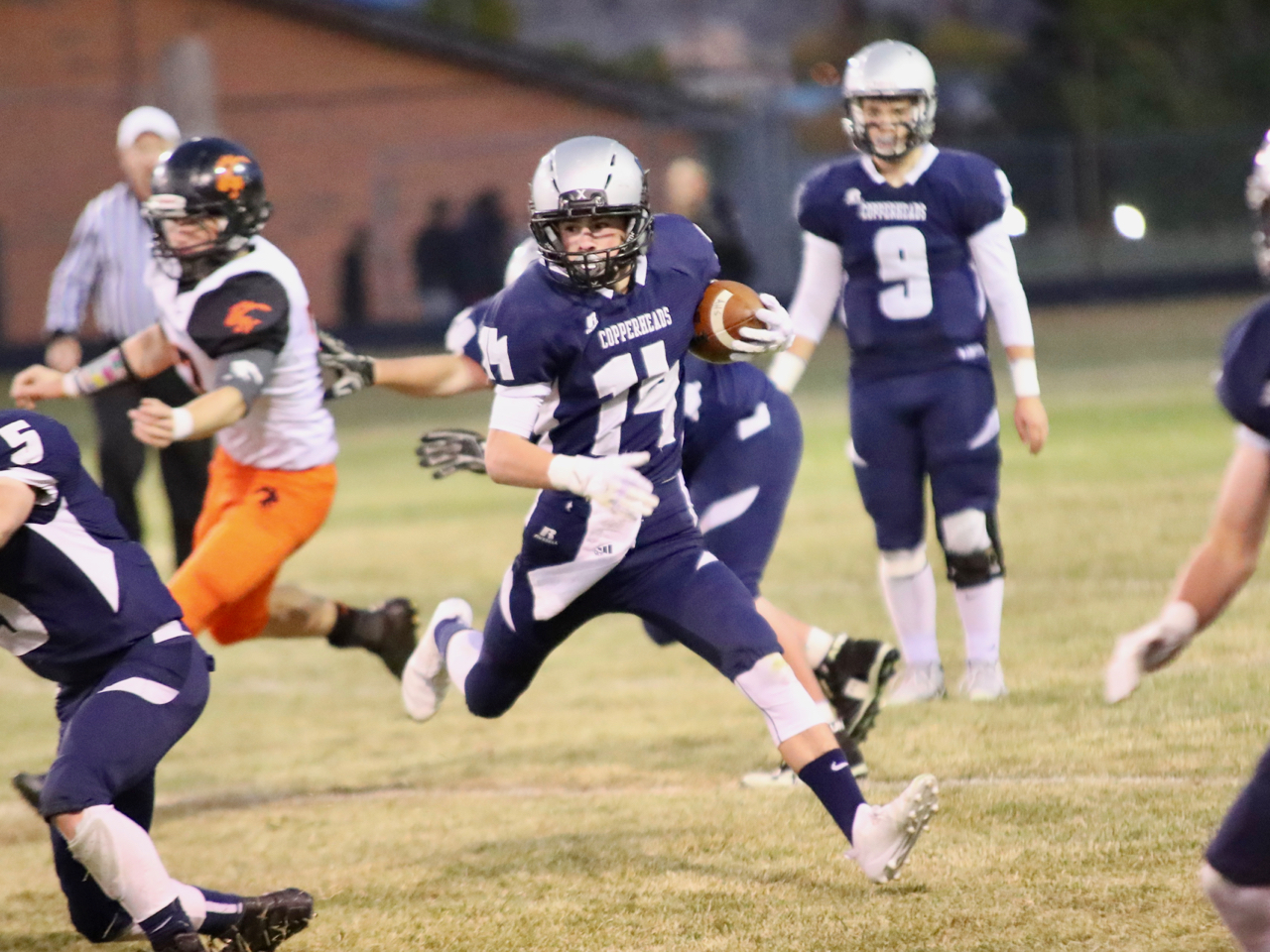 Eureka reversed the fortunes of their season in defense of the Class B state title Friday, spoiling Anaconda's Homecoming with a 48-0 win at Mitchell Stadium.
The Lions ground game was too much for the Copperheads, racking up 348 yards on just 29 carries. Terell Helgert was the leading rusher with 107 yards on just four carries aided by a 63-yard jaunt for score in the second quarter.
Eureka QB Hank Dunn had his fingerprint all over the game. He was an efficient 9-0f-15 for 121 yards with two TDs and scored twice more on runs of 25 and 7-yards, respectively, rushing for 101 yards on eight carries. Fullback Jake Kindel added another 87 yards on a team-high 11 carries.
Helgert, who also led the team in receiving with 60 yards receiving, scored three TDs (two rushing, one receiving) and 167 total yards from scrimmage.
The Copperheads had some openings early down the field in the passing game, but two acrobatic interceptions by Callendar and Dunn stalled Anaconda drives deep in Lions territory. AHS QB Dylan Smith completed 6-0f-17 for 63 yards and two interceptions.
Already without starting wideout/running back Michael Galle with a lower leg injury, Anaconda learned before the game that leading rusher Dylan Skocilich would not be medically cleared for play, adding to the depleted roster.
With some more offensive restructuring, sophomore Pat Galle and junior Dan Byrne, each listed as wide receivers, split the carries with 10 each. Byrne had 31 yards before leaving the game in the fourth with a leg injury while Galle churned out 19 yards.
Both sophomore Braedon Sawyer and junior Kylar Gochanour had two receptions apiece, Gochanour with 31 yards and Sawyer with 25.
Anaconda will hit the road one more time this season, traveling to Missoula Loyola next week. They return home for Senior Parents Night following a bye week on Oct. 17.
Eureka 14 21 7 6 — 48
Anaconda 0 0 0 0 — 0
First Quarter
E — Hank Dunne 25 run (kick failed); 8:21
E — Helgert 63 run (Dunn run); 1:32
Second Quarter
E — Helgert 15 run (Dunn run); 8:53
E — Cheney 11 pass from Dunn (pass failed); 7:06
E — Dunn 7 run (Guckenberg kick); 1:54
Third Quarter
E — Helgert 24 pass from Dunn (Guckenberg kick); :00
Fourth Quarter
E — B. Guckenberg 4 run (run failed); 1:48
STATISTICS
RUSHING
Eureka (29-348) — Helgert 4-107, Dunn 8-101, Lindel 11-87, Smith 4-47, Guckenberg 1-1, B. Guckenberg 1-5; Anaconda (24-43) — Pat Galle 10-19, Dan Byrne 10-31, Dylan Smith 4-(-7).
PASSING
Eureka — Dunn 9-15-121-2-0, Kindel 1-2-10-0-0; Anaconda — Dylan Smith 6-17-63-0-2.
RECEIVING
Eureka — Callendar 2-14, Chaney 4-47, Helgert 3-60, Dunn 1-10, Kindel 1-4; Anaconda — Braedon Sawyer 2-25, Kylar Gochenour 2-31, Galle 1-2, Eli Saltenberger 1-5.
Enter ad code here