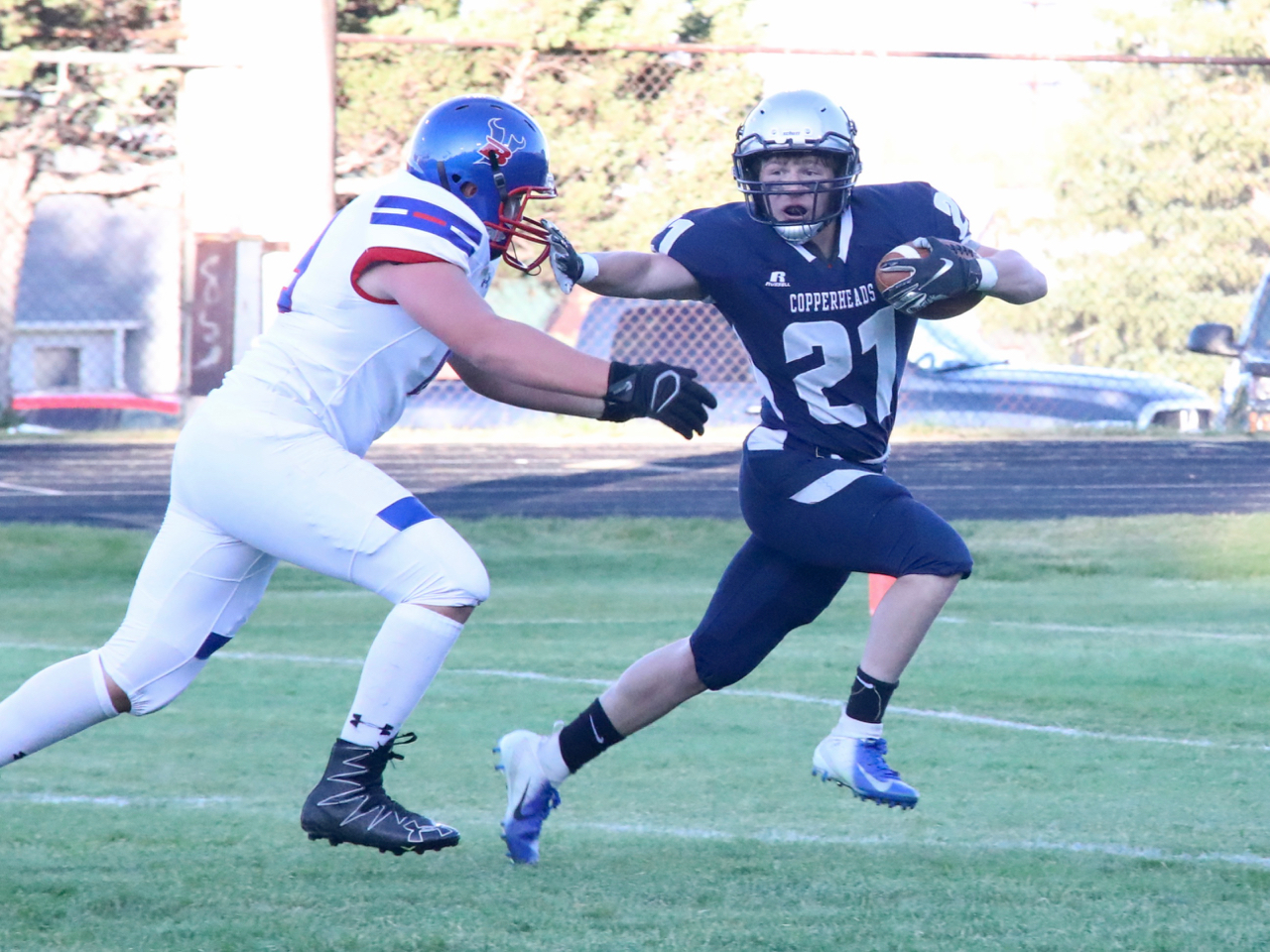 Bigfork only put up 240 yards of total offense, but it was enough to shutout Anaconda 51-0 for the Copperheads home opener Friday night at Mitchell Stadium.
Vikings quarterback Anders Epperly was as extremely efficient, completing 4-of-4 passes for 100 yards with two touchdowns and adding another on the ground midway through the second quarter. He never saw the field after the half.
Epperly got the offensive onslaught started early, hooking up with running back Randy Stultz on the second play of the game for a 35-yard TD pass.
A safety on the ensuing possession following a snap out of the end zone led to a 1-yard Luke Taylor run at the 7:27 mark to extend the lead to 16-0.
Two minutes later, Clayton Reichenbach caught Epperly's second TD pass of the quarter on an 18-yard fade route.
The second quarter was much of the same for Bigfork. Their defense held Anaconda to minus-6 yards rushing and only started once in their own territory. Unfortunately, that led to a 77-yard punt return TD with :14 left in the first half that capped the scoring for the Vikings.
Stultz and Epperly put it out of reach in the second combining for three 5-yard TD runs to start the quarter.
Anaconda junior QB Dylan Smith was under constant duress all night, completing only 4-of-14 for 16 yards and an interception. Senior running back Dylan Skocilich hauled in one pass for 14 yards and gained 10 yards on 13 carries to lead Anaconda offensively. Michael Galle led Anaconda in rushing with 20 yards on three carries.
Offensively, Anaconda only had one positive yardage play in the entire first half and didn't get into Bigfork territory until the 3:04 mark of the third quarter.
Next up for the Copperheads is a trip to archrival Deer Lodge next Friday. That game will be broadcast live on Copperhead Country.
Bigfork 51, Anaconda 0
Bigfork 23 28 0 0 – 51
Anaconda 0 0 0 0 – 0
First Quarter
B – Randy Stultz 35 pass from Anders Epperly (Jacob Herd kick); 9:42
B – Safety (snap out of end zone); 8:19
B – Luke Taylor 1 run, (Herd kick); 7:27
B – Clayton Reichenbach 18 pass from Epperly (Herd kick); 4:07
Second Quarter
B – Stultz 5 run (Herd kick); 11:52
B – Epperly 5 run (Herd kick); 8:25
B – Stultz 5 run (Herd kick); 3:59
B – Kainin LaFontaine 77 punt return (Herd kick); :14
PASSING
B – Epperly 4-4-2-0-100; A – Dylan Smith 4-14-0-1-16.
RECEIVING
B – Reichenbach 2-39, Stultz 1-35, Luke Schmidt 1-26; A – Gochanour 2-8, Dylan Skocilich 1-14, Jordan Black 1-(-6).
RUSHING
B (26-140) – Stultz 10-59, Luke Taylor 6-37, Levi Taylor 5-13, LaFontaine 4-26, Epperly 1-5; A (25-(-6) – Skocilich 13-10, Michael Galle 3-20, Pat Galle 2-5, Smith 5-(-22), Gochanour 1-(-1).
Enter ad code here