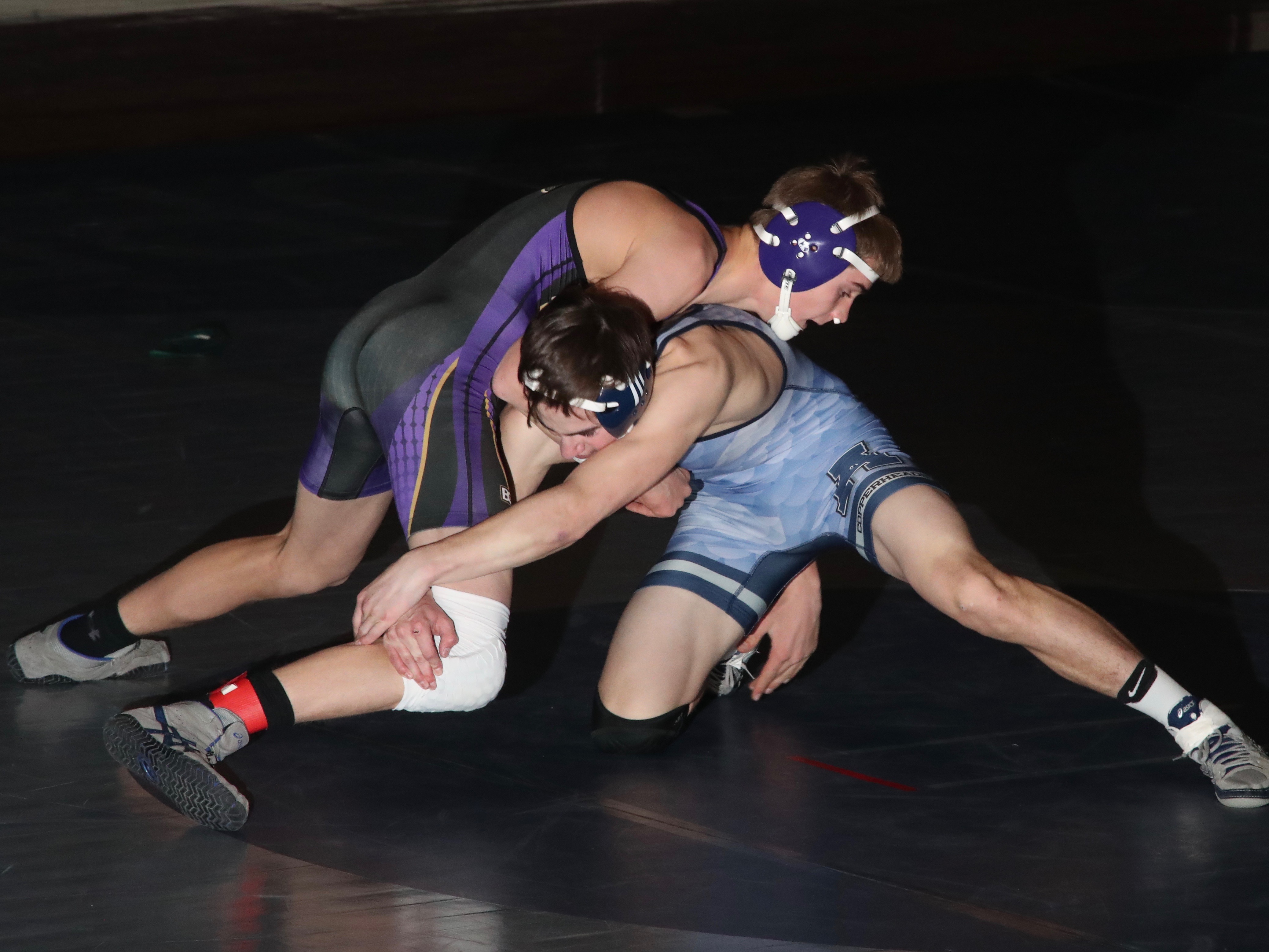 (Anaconda's Dan Byrne grabs a single leg to record a first period takedown against Dallon Hoover Friday night at Memorial Gymnasium.)
The Trojans came to Anaconda looking for a good finish to the 2017 season. And the walked out with a big smile on their collective faces.
Whitehall won every contested match they wrestled, taking down Anaconda 57-21 Friday night at Memorial Gymnasium.
Every Trojan wrestler won by pin except for 152-pounder Wyatt Powers, who edged Dylan Skocilich 6-4 in the match of the night.
Anaconda's 21 points came on open weight wins by Joe Freeze (113), Grady Snow (170) and Luke Jensen (182).
The Copperheads will be back in action with a dual on Jan. 4 against Arlee.
Whitehall 57, Anaconda 21
103 — Dawson Powers, W p. Mason Worl, 3:35; 113 — Joe Freeze, A, won by forfeit; 120 — Dalton Denny, W p. Thomas Blaz, 2:40; 126 — Mike Wilkinson, W p. Wyatt Theard, 3:15; 132 — Cameron Johnson, W p. Shawn Cline, 1:38; 138 — Dallon Hoover, W p. Dan Byrne, 3:50; 145 — Garris Robertson, W p. Anthony Forsmen, :35; 152 — Wyant Powers, W dec. Dylan Skocilich, 6-4; 160 — Open; 170 — Grady Snow, A won by forfeit; 182 — Luke Jensen, A won by forfeit; 205 — Kaden Howser, W p. Liam Barrington, 3:36; HWT — Dawson Hoerauf, W p. Connor Sampson, :20.
Enter ad code here