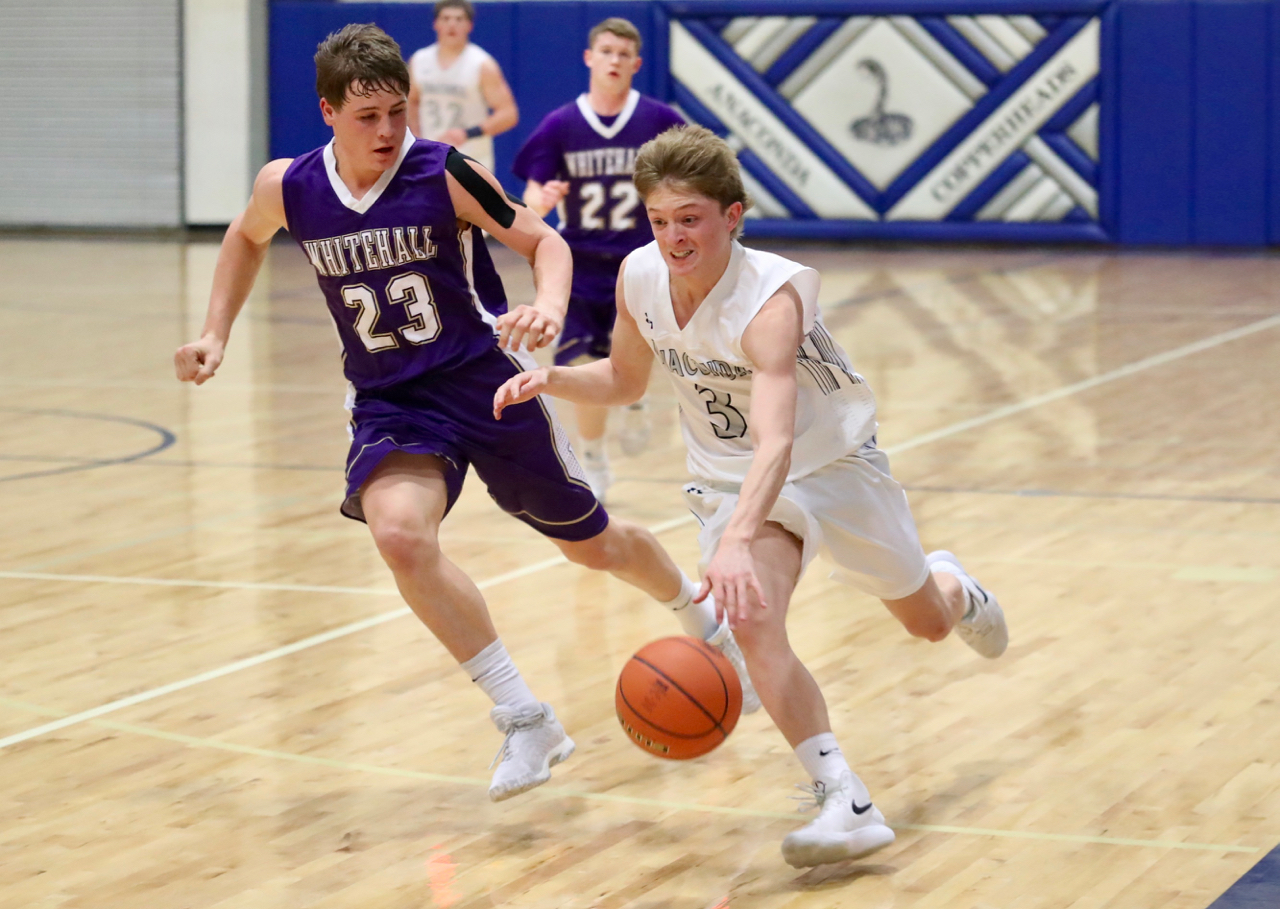 (Michael Galle get the ball in the front court chased by Braden Smith of Whitehall. PHOTO COPYRIGHT COPPERHEAD COUNTRY/Melissa Hempstead)
The Copperheads look more like a MASH unit than a basketball team, but it still took Whitehall overtime to finally put them away.
Led by junior Max Feight's game-high 29 and Wyatt Alexander's 27, Whitehall outscored Anaconda 15-2 in overtime to record the 63-50 nonconference win Thursday night at Memorial Gymnasium.
Already down Trent Mikalatos with a knee injury suffered Wednesday at practice, Anaconda's Braxton Hill and Zeke Buck each suffered significant ankle injuries in the first quarter. Hill returned after a 30 second break on the training table but Buck was unable to get back in the lineup.
Freshman Braedon Sawyer and sophomore Leroy Wilson were sprung into action along with the season-high 15-point performance by senior wing Bobby Swainston to light a spark under sizable the home crowd at the Snake Pit.
Hill battled through a bum ankle and what he called a slightly hyperextended knee to score a team-high 24 points. He would pass Scott (1,516) and Rob Hurley (1,531) to become the second-highest male scorer in school history with 1,535 points.
Whitehall struggled from the field in the first half, but that soon changed after intermission. With Swainston in foul trouble and Anaconda playing three sophomores and a freshman, the Trojans pounced.
Down three late in the fourth, Hill went to work. He pump faked from 24 feet to get Braden Smith off his feet and tried to draw contact. Smith stayed away and stuck in the air Hill poured in a desperation heave that banked in to tie the game at 48-all with 1:01 left.
The Trojans elected to to take the last shot. After a minute of dribbling the time out, Feight drove down the right side of the lane and had the ball stolen by Swainston with five seconds left. Swainston tapped the ball to sophomore Kylar Gochanour who missed a half court prayer at the buzzer for the win.
Eeight got redemption quickly in the OT. He scored the first five points in OT with a transition layup and 3-point play which fouled Hill out of the game with 3:20 left to basically ice it.
Sawyer's four points is a career-high while Michael Galle added three and two apiece from Wilson and senior guard Gabe Byrne.
Anaconda is on the road Saturday to Eureka for a nonconference battle. They return home next Thursday to take on Deer Lodge in a boys-girls doubleheader.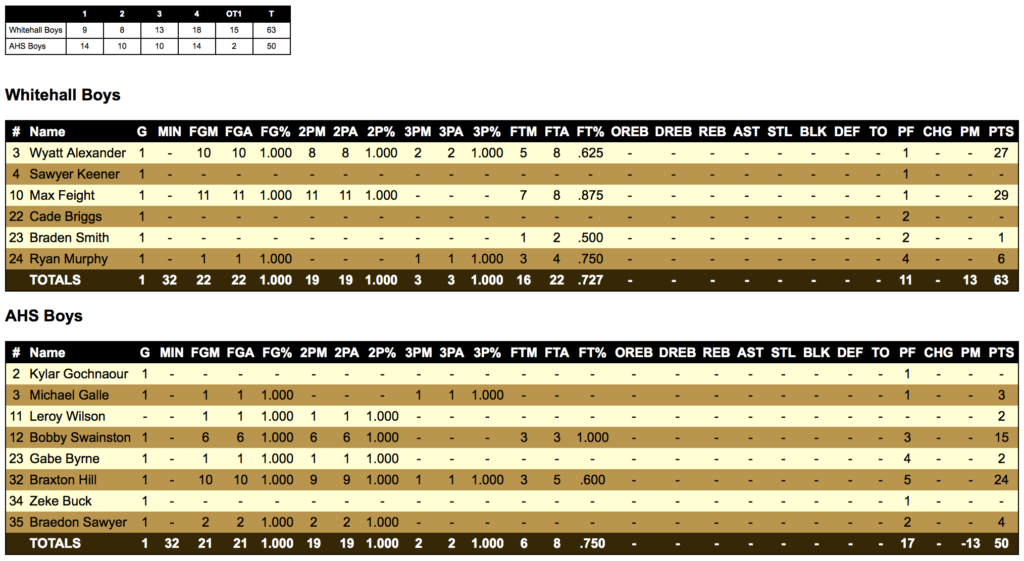 Enter ad code here