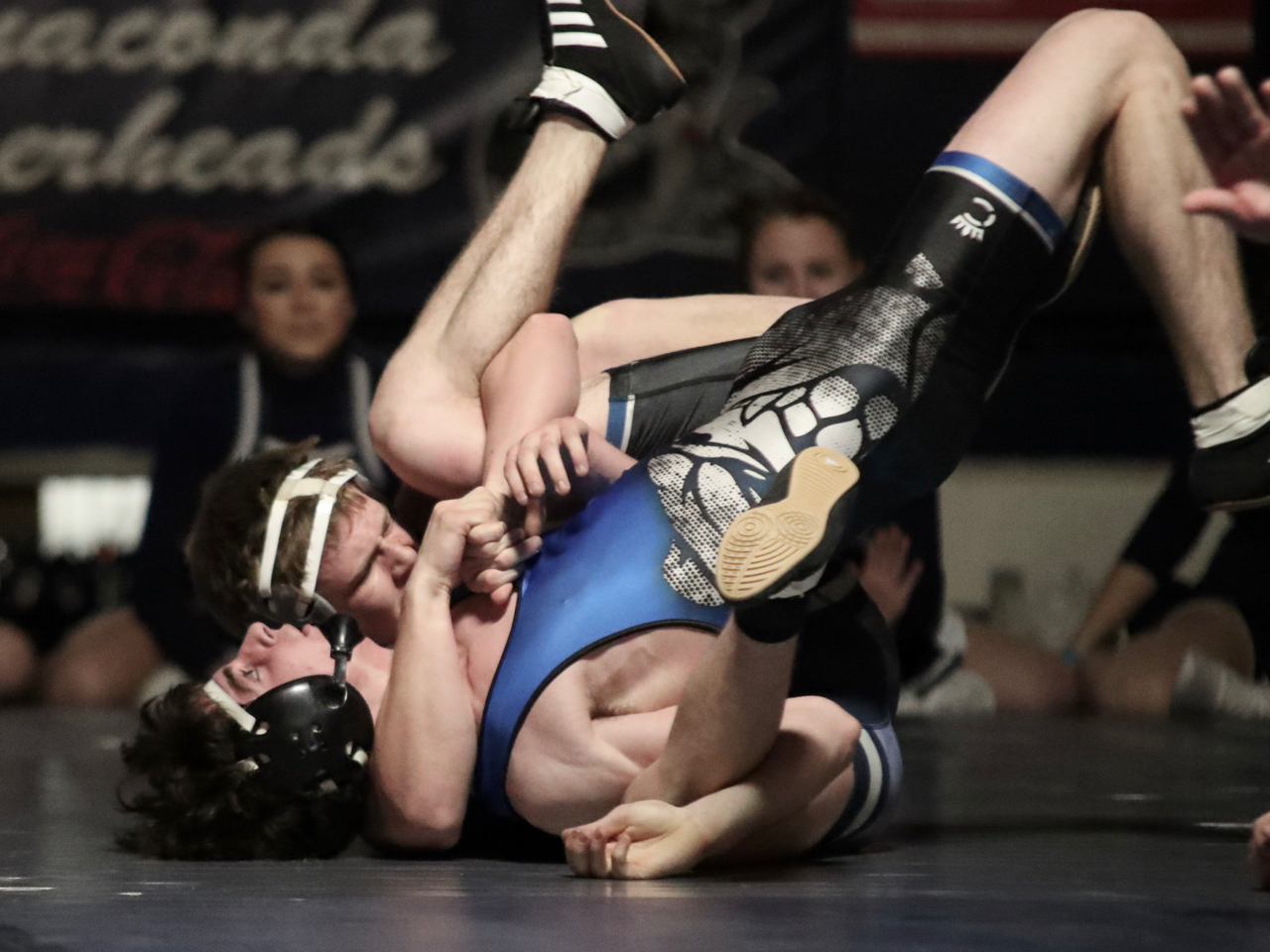 (Dylan Skocilich earns near fall over Townsend's Blue Steele in the final match of the night Friday at Memorial Gymnasium.)
In the final dual of the season for Anaconda, Townsend sent a message heading into the Western B/C divisional tournament.
The Bulldogs won the first 10 matches of the night en route to a 53-16 win over the Copperheads to win the Shamrock Dual Friday at Memorial Gymnasium.
Five of the 10 matches were by pin, two were forfeits and the other three major decisions.
Anaconda finally got on the board at with Dan Byrne at 132, winning the final three matches of the evening. The dual began at 152.
Byrne led wire to wire, finally catching CJ Srigley in cradle and earning the pin at the 4:47 mark of the third period.
Zach Gwin made short work of Wayne Asheman at 138, ending the match by pin in 53 seconds.
The final match of the night saw Copperhead junior Dylan Skocilich build a big lead then win 13-3 with a major decision over Blue Steele.
Anaconda will travel next week to the Western B/C divisional being held in Columbus Saturday.
Townsend 53, Anaconda 16
103 — Sam Lane, T won by forfeit. 113 — Tristen Payne, T dec. Cho Friis, 9-2. 120 — Kade Edgerton, T p. Thomas Blaz, 5:38. 126 — Easton Held, T p. Wyatt Theard, 1:17. 132 — Dan Byrne, A p. CJ Srigley, 4:47. 138 — Zach Gwin, A p. Wayne Asheman, :53. 145 — Dylan Skocilich, A md Blue Steele, 13-3. 152 — Kameron Rauser, T p. John Brock, :46. 160 ­— Ty Groh, T, won by forfeit. 170 — Kyle Spritzer, T p. Grady Snow, :27. 182 — Justin Denton, md Liam Barrinton, 11-2. 205 — Hunter Harold, T md Tanner Cline, 10-1. 285 — Jadon Lamb, T p. Connor Sampson, :28.
Enter ad code here