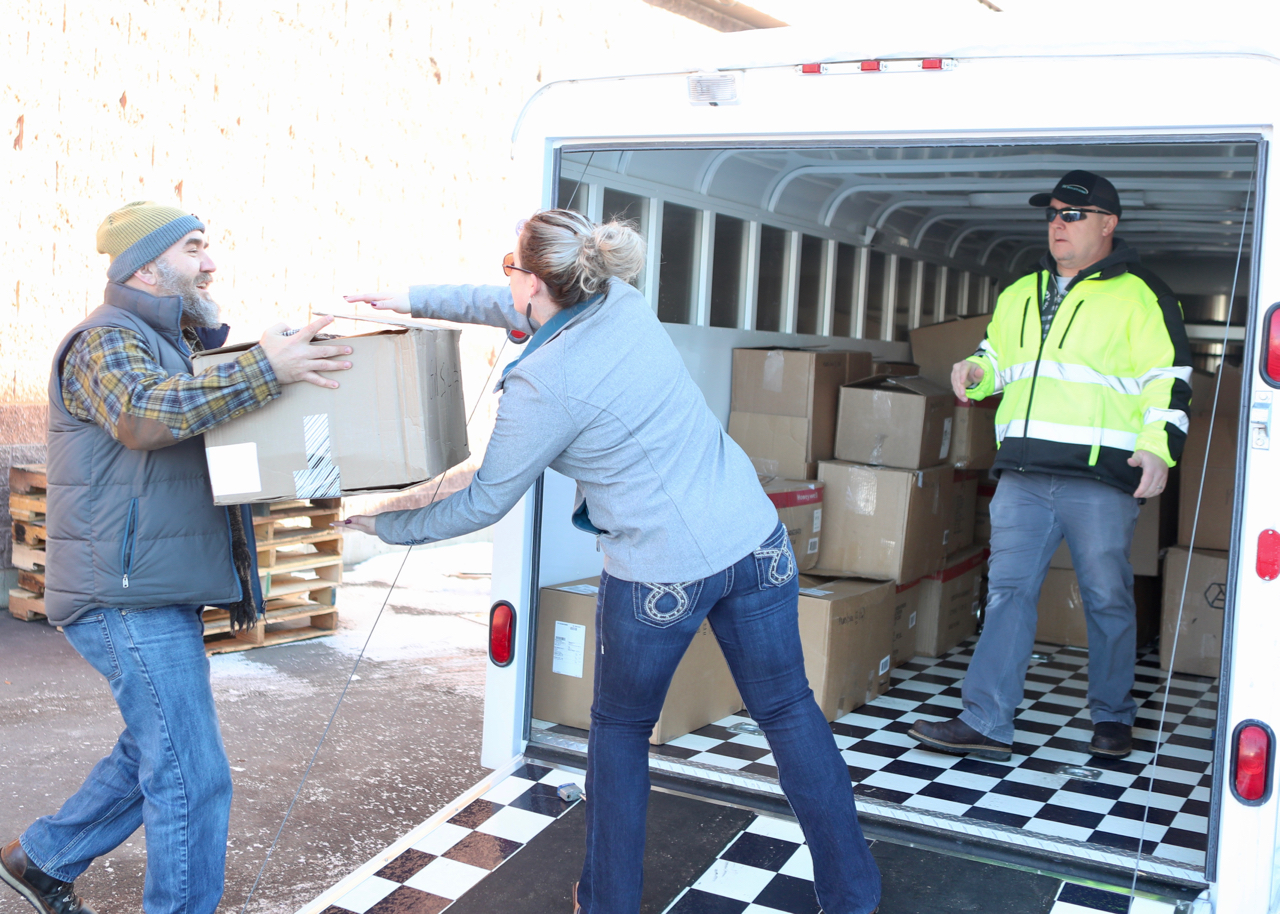 An act of kindness and community pride has led to a remarkable gift involving Anaconda kids.
On Thursday morning, a truckload of winter apparel including coats, boots, hats and gloves was delivered to Fred Moodry Intermediate School thanks to the kindness of Rick Tabish, owner of FX Solutions Inc.
Tabish, who has been busy securing permitting for his secondary business – Premiere Industries – to process the slag located in the East Yards, saw a need in the community and started searching on ways to help.
Upwards of 170 students will be the recipients of the clothing thanks to the Backpack Program, a program that was originally designed to provide underprivileged, school-aged children with access to food for the weekend. Children in all Anaconda schools including Lincoln, Fred Moodry, Anaconda Junior-Senior High and Head Start will be helped by the donation.
Tammy Hurley, principal of Fred Moodry Elementary School and the brainchild of the Backpack Program, said the donations by Tabish have been "remarkable."
"(Rick) also donated $5,000 for the food baskets during the holidays," Hurley said as members from FX Solutions and other dignitaries delivered the apparel Thursday. "This was an incredible gift."
Although the monetary value of the donation was not divulged, every student in the Backpack Program will be clothed with name brand attire including Carhartt and Helly Hansen coats and cold-weather packs for footwear purchased at Thomas' Department Store in Butte.
"Rick saw a need and wanted to do what he could to help," said FX Solutions project manager Scott Hatcher, an Anaconda native. "He's not doing this for notoriety, he just wants to give back to a community that has been supporting him."
During the delivery, FX Solutions Human Resources director Laken Mullen also echoed Hatcher's sentiments.
"It's sad, some of these kids are walking the streets with no warm clothes or coats," she said. "It's not the kids' fault that some families can't provide these items."
This isn't the first act of kindness by Tabish to Anaconda schools. Earlier this school year, FX Solutions Inc. donated $3,000 to Lincoln Elementary, Fred Moodry Intermediate and Anaconda Junior-Senior High School to use as they see fit – with a promise of more once he found a worthwhile cause.
Thursday's delivery was just the tip of the iceberg, according to Tabish.
Enter ad code here