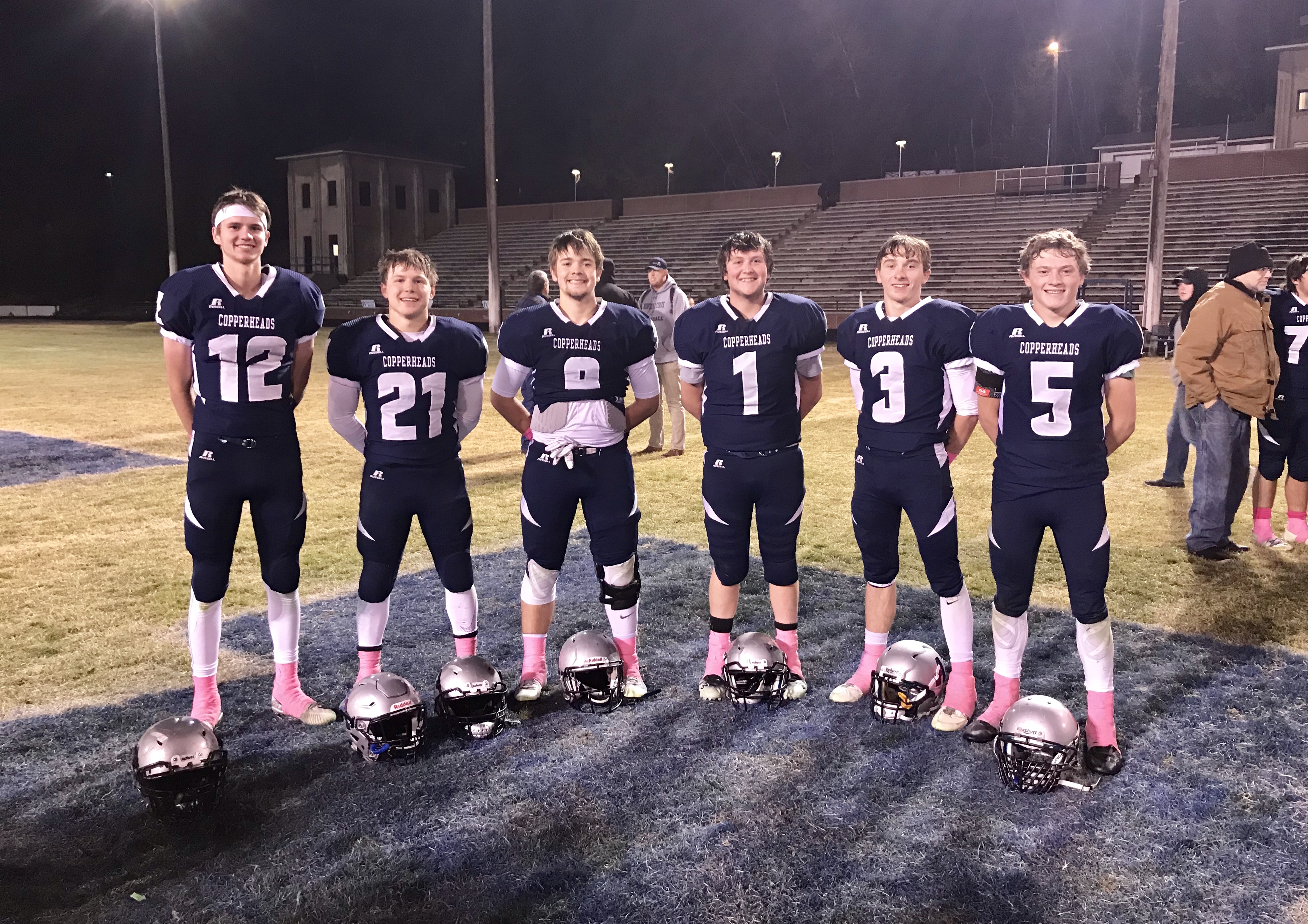 Can one win define a season? After Friday's 46-13 win over Thompson Falls, that sentiment is a resounding yes.
With participation at an all-time low and coming off the heels of a crushing graduation year, first-year head coach Jesse Robins already had an uphill battle. The program didn't have a head coach until the end of the school year and Robins staff wasn't solidified until July. With so much still to digest, add the problem of their expected returning starting QB unexpectedly transferring before the first day of practice.
Still, Robins and 24 young men battled on. Defeat after defeat, seven in a row being outscored 327-40 — the final six losses all resulting in a running clock being down by at least 35 points. And on every passing Monday, the coaching staff continued to see the same faces. Almost every original player on the roster made it through the season, showing perseverance instilled by Robins and his staff of Austin Barth, Riley Schell and William "Spanky" Sanders.
A soliloquy it isn't, but a program defining win? Maybe. Anaconda needed a win like this to spark interest in a program that has been waning as enrollment numbers have dwindled over time — so much so the team didn't have enough to field a JV team for possibly the first time ever.
And how did they win? They played their most complete defensive game of the year overshadowed only by a record-breaking performance by junior quarterback Dylan Smith's school-record six touchdown passes to five difference receivers.
Down 7-0 in the first quarter, Anaconda reeled off 34 unanswered points in the win.
Anaconda got on the board with 7:58 left in the second quarter on a 29-yard TD pass to Kylar Gochanour from Smith. The ensuing conversion run failed, but the lead would soon change hands.
Exactly 3:13 later, Gochanour had his second TD catch of the quarter and the season, this time from 20 yards out. And on the conversion, Kelly found sophomore Pat Galle out of the backfield for a 14-7 score.
Then just before halftime, sophomore Braedon Sawyer used his length to rise up over the defense inside the pylon to come down with the 15-yard TD with :50 left on the clock. A Dylan Skocilich run made it 22-7 heading into the halftime.
Skocilich wouldn't be held out of the end zone for long, scoring on a dynamic 61-yard middle screen that was a fine substitute to a 45-yard TD run that was wiped off the board in the first quarter due to a holding penalty. Although the conversion failed, Anaconda took a 28-7 lead with 10:16 left in the third.
Then, imitation and imagination emerged at Mitchell Stadium. With second and goal from the 10, Smith left the backfield and lined up in the slot. In a play made mainstream in last year's Superbowl known simply as Philly Special, Skocilich took the direct snap, handed the reverse to Gochanour with the design to throw it to Smith in the end zone. Remarkably, the play was defended so well Gochnaour was forced to run.
Breaking two tackles, Gochanour broke the plane for his third TD of the game. Looking back, it may have been a more fitting way to score points for this team. Another failed conversion made it 34-7 with 5:24 left in the third.
Thompson Falls finally stopped the bleeding, with a battered starting QB Tyler Fisher being flushed from the pocket to find Kade Pardee in the back of the end zone from five yards out. The PAT was wide left leaving the score 34-13 with 2:27 left in the third.
Anaconda again marched down the field on the back of three-straight 15-yard runs by Skocilich, setting up another TD pass with 11:50 left in the fourth — this time to Connor Sampson, his first career catch and TD. The 5-yard TD reception tied Smith with Braxton Hill (2016) with five TD passes in a game.
Then with 4:05 left in the game, Smith set the record with a 9-yard TD to Pat Galle. Nobody knew of the record until after the game when Barth, Smith's offensive coordinator, let the team know of the accomplishment.
Defensively, Anaconda forced four interceptions and limited Thompson Falls to negative 13 yards rushing in the second half in the win, sending four deserving seniors (Riley Cobban, Jordan Black, Sampson and Skocilich) out in style.
All told, Smith was a very efficient 9 of 15 for 190 yards and the six scores and no interceptions. Gochanour led the team with three catches for 84 yards and three TDs, and Skocilich was the bell cow rushing 18 times for a career-high 149 yards.
One win on the season, a mark that was not envisioned of being a success. But in the end, Anaconda scored more points in this win than combined through the season (40) and set a school-record in the process.
Under some pretty damn tough circumstances, a one-win season is a pretty sweet way to end it.
An archive of the play by play will be available at http://copperheadcountry.airtime.pro on Saturday. Go to Podcast and click on the link.
T. Falls 7 0 6 0 — 13
Anaconda 0 22 12 12 — 46
FIRST QUARTER
T — Nate Wilhite 6 run (Wilhite kick); 2:43
SECOND QUARTER
A — Gochanour 29 pass from Smith (run failed); 7:58
A — Gochanour 20 pass from Smith (Galle from Smith); 4:45
A — Sawyer 15 from Smith (Skocilich run); :50
THIRD QUARTER
A — Skocilich 61 pass from Smith (pass failed); 10:16
A — Gochanour 10 run (pass failed); 5:24
T — Pardee 5 pass from Fisher (kick failed); 2:27
FOURTH QUARTER
A — Sampson 5 pass from Smith (run failed); 11:50
A — Galle 9 pass from Smith (pass failed); 4:05
INDIVIDUAL STATS
PASSING
T — Fisher 15-38-154-2; A — Smith 9-15-190-0.
RUSHING
T (32-90) — Fisher 13-52, Wilhite 16-34, Miller 2-5, Thilmony 1-(-1). A (30-222) — Skocilich 18-149, Galle 4-55, Smith 5-(-8), Sawyer 2-16, Gochanour 1-10.
RECEIVING
T — Wilhite 6-69, Thilmony 4-14, Pardee 3-43, Roman Sparks 2-22, Bard 1-6. A — Gochanour 3-84, Sawyer 2-15, Galle 2-14, Sampson 1-5, Skocilich 1-61.
Enter ad code here