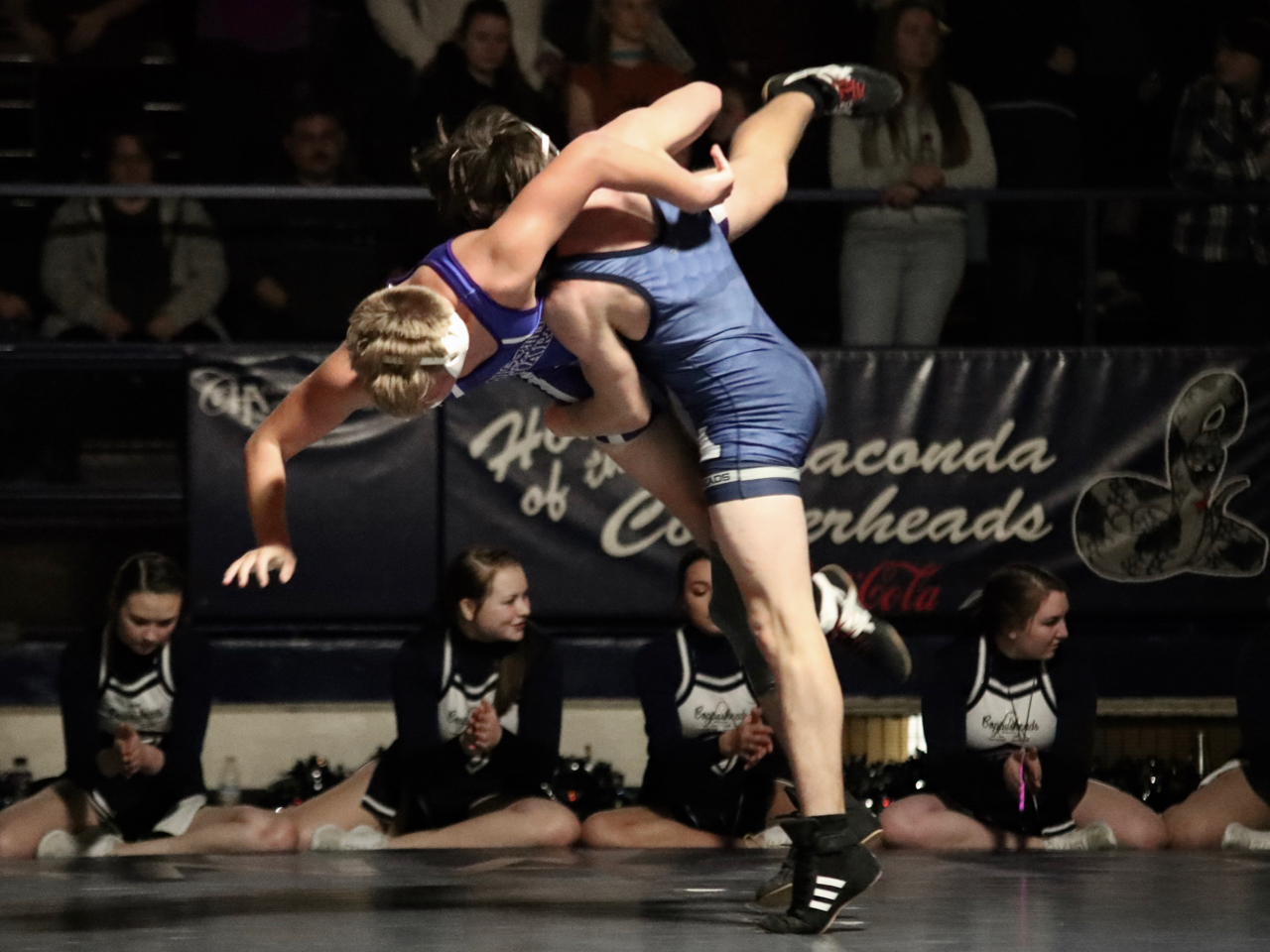 Brandon Seitzinger slams his opponent before pinning Colin Appleby at the 4:08 mark in the third period. PHOTO COPYRIGHT COPPERHEAD COUNTRY
Anaconda's youth took a small hit Thursday night during their home-opener, but considering the talent on the other side of the mat it wasn't as bad as it seems.
Mission overcame two forfeits to squeak by Anaconda 42-36 in front of a spirited crowd at Memorial Gymnasium.
Anaconda's 205-pound senior transfer Clancy Gout was as good as advertised, pinning Lucas Wohltmann in 58 seconds to stay undefeated on the season. Gout is coming off a championship at the Cascade Tournament the week prior.
Sophomore Caleb Thompson (120), Sophomore Brandon Seitzinger (160), And Landon Forsberg (HWT) all recorded pins for the Copperheads as well.
Anaconda will now head to the Whitehall Duals Friday and Saturday.
MISSION, 42, ANACONDA 36
103 — Mason Worl, Anaconda, won by forfeit. 113 — Walker Murphy, Mission, p. Thomas Blaz, 2:58. 120 — Caleb Thompson, Anaconda, p. Robert Demsey, 1:13. 126 — Bailey Weible, Mission, p. Kyle Adams, 1:05. 132 — Cole Gilleard, Mission, p. Dan Byrne, 3:15. 138 — Darwin Adams, Mission, p. Wyatt Theard, 1:54. 145 — Johny Brock, Anaconda, won by forfeit. 152 — Isiah Alik, Mission, p. Dylan Skocilich, 4:29. 160 — Brandon Seitzinger, Anaconda, p. Colin Appleby, 4:08. 170 — Miles Anderson, Mission, p. Grady Snow, 1:29. 182 — Gus Bosley, Mission, p. Jake Whaley, :16. 205 — Clancy Gout, Anaconda, p. Lucas Wohltmann, :58. HWT — Landon Forsberg, Anaconda, p. Chris Anderson, :32.
Enter ad code here