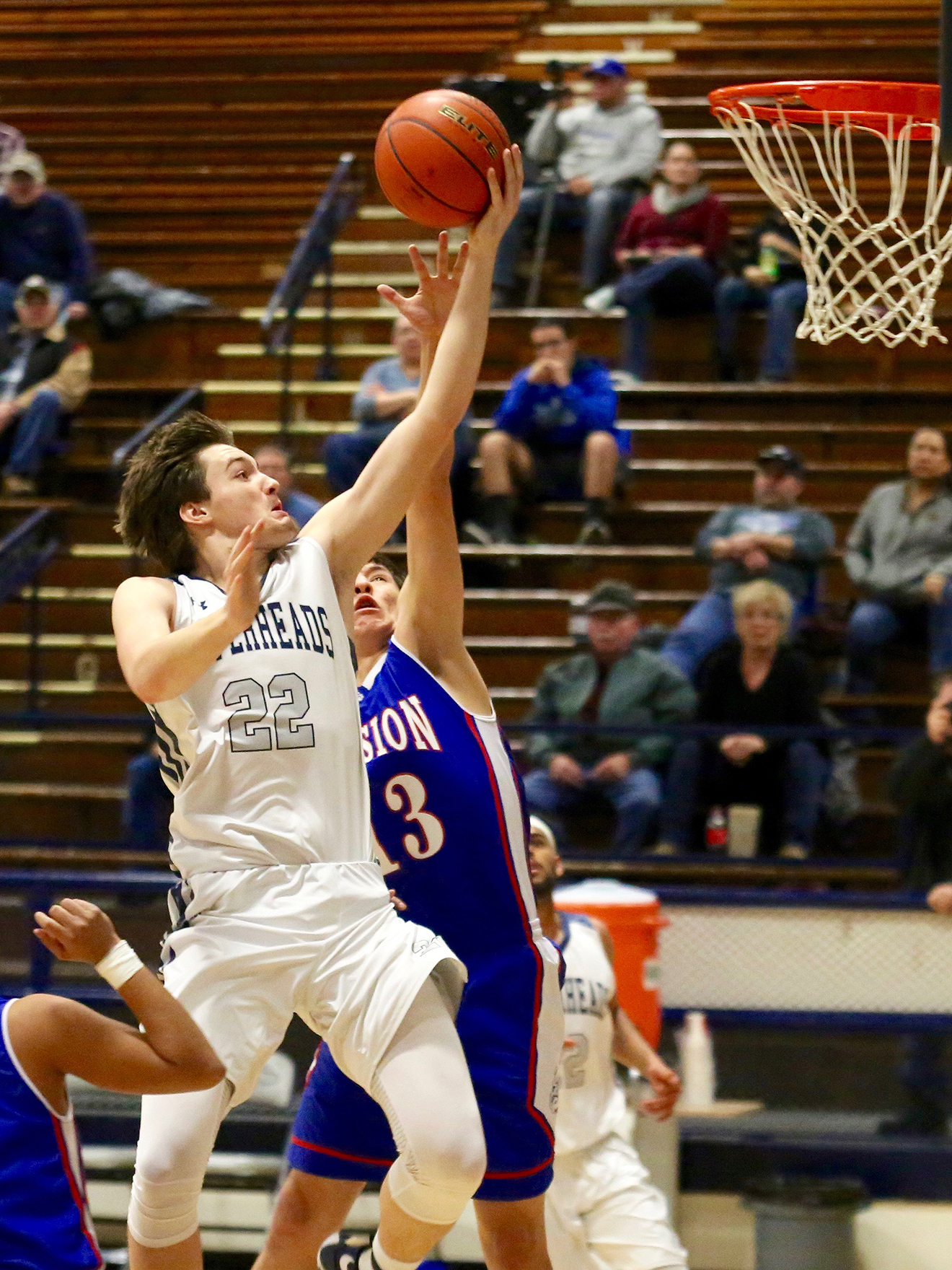 (Trent Mikalatos finishes a finger roll in transition against Mission during the 2016-17 season. He signed with University of Montana Western today to play for Hall of Fame head coach Steve Keller. Photo copyright Copperhead Country/Melissa Hempstead)
On Thursday, Trent Mikalatos, a senior from Anaconda, signed his letter of intent to join the Montana Western Bulldogs mens basketball team in the fall of 2018.
Mikalatos, a versatile 6-foot-7 forward for the Copperheads, helped lead the team to a 17-10 record and their best overall finish since 1989. Anaconda advanced to the Class B state title game against Malta, falling 54-51 despite Mikalatos' 15 points and 12 rebounds in the chipper.
During his recruitment, Mikalatos was humbled by Western's interest in his abilities. When he discussed the offer with his parents, it was an easy choice.
"I was excited to receive their offer," said Mikalatos, who also received interest from several other Frontier schools after playing for the Idaho Select AAU basketball program this summer. "Western has one of the best coaches and programs currently in the NAIA. I felt very welcomed when I was visiting and I'm glad to finally get to live my dream of playing college basketball."
Montana Western head coach Steve Keller saw a diamond in the rough — a left-handed wing with length and smooth touch from the perimeter — when he decided to pursue Mikalatos.
"We feel like Trent's best basketball years are down the road," Keller said. "Trent is 6-7, long and athletic and has the ability to shoot the 3-point shot. He is a very good rebounder and shot blocker. We are extremely excited he has decided to join our program."
Named to the Class B All State team as a junior, Mikalatos averaged 13.0 points/game and led the team in made 3-pointers (33). Overall, the senior has scored 487 points in two years as a varsity player for the Copperheads.
Still young for his grade – Mikalatos will turn 18 in July – Keller is leaning towards redshirting and developing his skills to best fit the team down the road.
"Our plan is to redshirt Trent next year," Keller said. "He is young. We project him to be a 3-4 in our system. I believe Trent is going to be a very good player in the Frontier Conference and look forward to watching him develop."
Mikalatos follows in the footsteps of several former Copperheads to play at Montana Western. Tyler Hurley, an All-Frontier forward (2009-12) and guard Jared Smithson (2007-11) both played for Keller, guard Jim Stergar (1991-93) suited up under famed coach Casey Keltz and forward Kevin Jovanovich (1999-00) under Mark Durham. (Note: Richard Green also played for Keltz confirmed by coach Durham)
Mikalatos is the son of Nick and Dusty Mikalatos. He has two younger brothers, Brady, 14, and Cael, 11.
(Friday night, Nick and Dusty invite you to a party celebrating the event at Cedar Park Lanes following the Copperhead football game. The party is for all ages.)
Enter ad code here