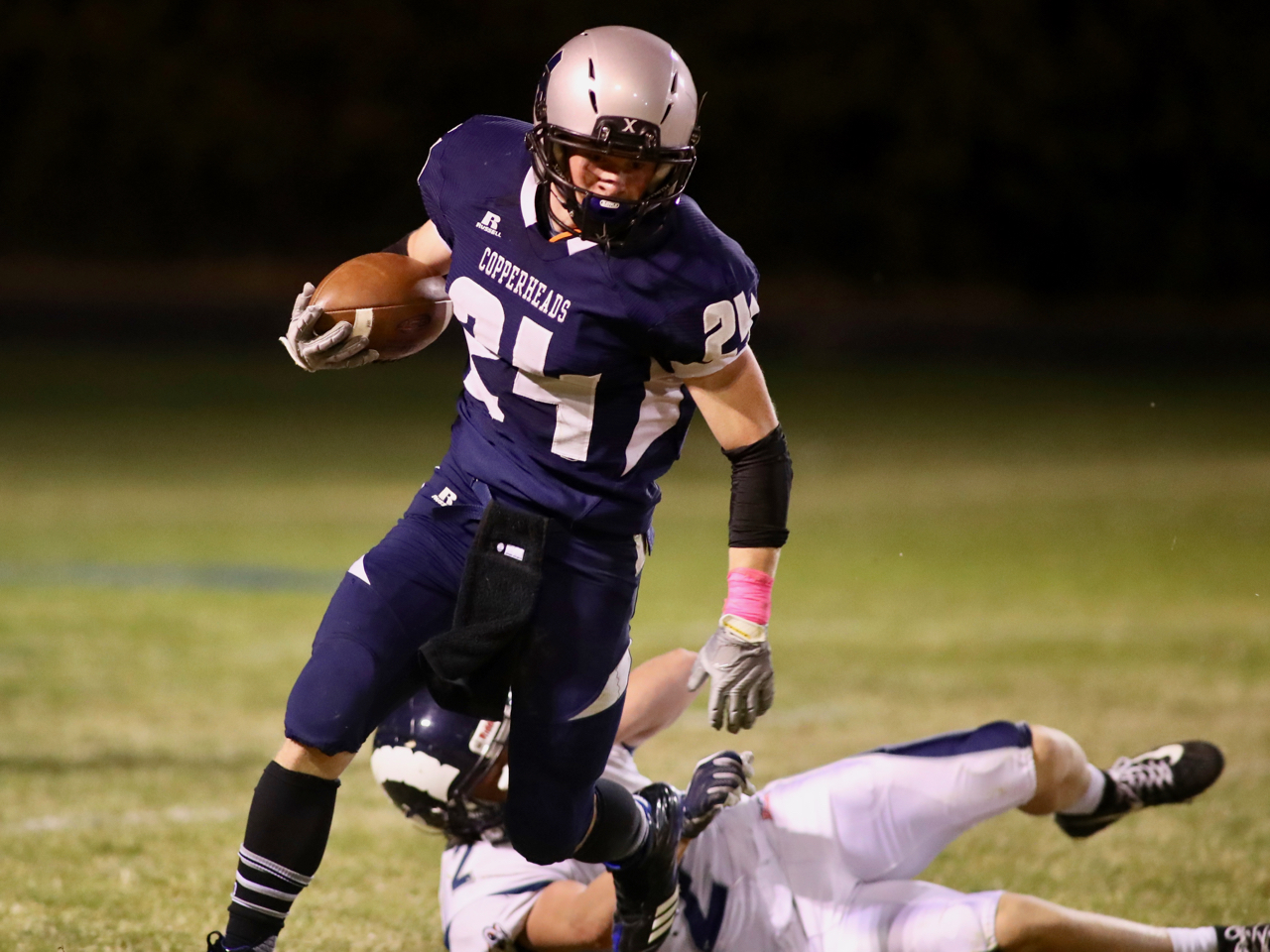 Anaconda's playoff chances came to an end and Loyola's took a major step forward on Friday night at Mitchell Stadium.
University of Montana commit David Koppang and quarterback Scott Twite had quite the night, hooking up four times for TD to lead the Rams to a 54-14 win in Western B play. Loyola now controls their own destiny for the No. 2 seed in the playoffs if they win out.
Anaconda's offense struggled to sustain drives while Loyola had complete control on that side of the ball.
Loyola racked up 384 yards of offense and capitalized on special teams and two Copperhead turnovers deep in their own territory in the decisive win. Twite completed 12 of 15 attempts for 182 yards and four TDs. Koppang was the leading target, recording seven receptions for 104 yards.
Anaconda quarterback Braxton Hill continued to show his resilience playing with a torn labrum in his non throwing shoulder, but overall couldn't keep up with the offensive onslaught. He completed 10 of 23 for 132 yards with a TD and sacked three times.
Junior Luke Jensen caught a team-high four passes for 68 yards while freshman Braedon Sawyer, getting his first start of his career, grabbed three for 56 yards.
Senior wideout Trent Mikalatos caught a fourth quarter TD pass from 25 yards out, his second reception of the night.
Anaconda's rushing attack was also a wash after being all but abandoned with the lopsided score. Senior Gabe Byrne gained a team-high 39 yards on 10 carries including a rushing TD in the first quarter from 2-yards out. He later left the game with a finger injury.
The Copperheads have a bye week and then cap off the 2017 season with a trip to Thompson Falls on Oct. 20.
Loyola 54, Anaconda 14
First quarter
L — David Koppang 10 pass from Scott Twite (Austin Ogilvie PAT), 7-0
L — Cal Gibson 5 run (kick good), 14-0
A — Gabe Byrne 2 run (pass failed), 14-6
L — Koppang 2 pass from S. Twite (kick good), 21-6
Second quarter
L — Jeff Twite 67 run (kick good), 28-6
L — Koppang 34 pass from S. Twite (kick good), 35-6
L — Koppang 31 pass from S. Twite (kick good) 42-6
Third quarter
L — Gibson 17 run (kick blocked), 48-6
L — Nolan Iverson 17 run (kick failed) 54-6
Fourth quarter
A — Trent Mikalatos 25 pass from Braxton Hill, (Luke Jensen from Hill), 54-14
PASSING — Loyola, S. Twite 12-15-182-4-0; Anaconda, Hill 10-23-132, 1-0.
RECEIVING — Loyola (Koppang 7-104, Jeff Twite 2-53, Luke Bledsoe 2-15, Nick Mitzel 1-6), Anaconda (Jensen 4-68, Sawyer 3-56, Mikalatos 2-31, Matt Ryan 1-12).
RUSHING — Loyola 19-202 (Ryan Terrell 5-45, S. Twite 4-40, Gibson 4-32, J. Twite 3-66, Iverson 1-17, Albrecht 2-0), Anaconda 19-44 (G. Byrne 10-39, Hill 7-(-2), Ryan 2-7).
Enter ad code here