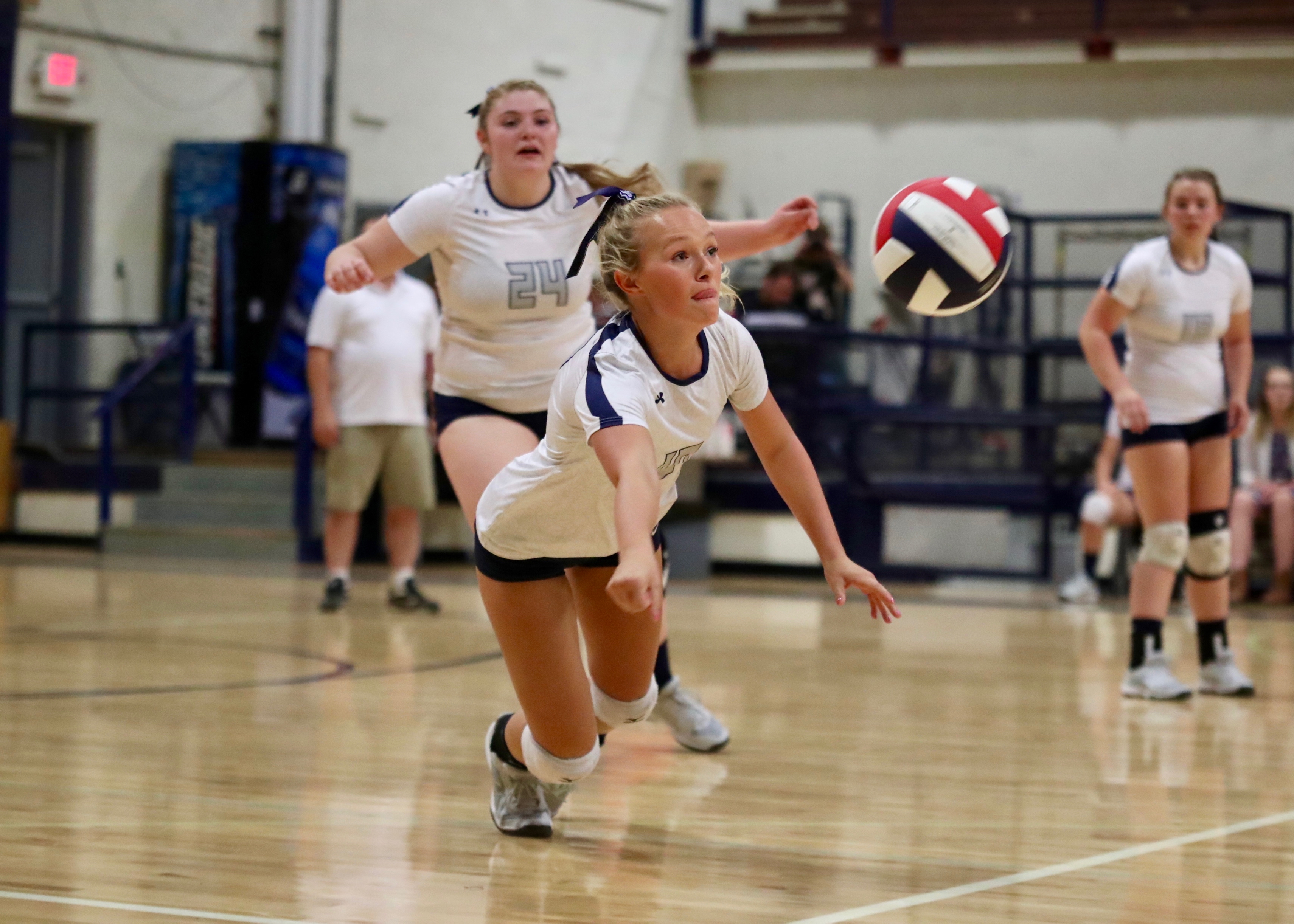 Jefferson used a powerful front line and crisp passing to overpower Anaconda, sweeping the Copperheads 25-19, 25-15, 25-20 Thursday night at Memorial Gymnasium.
Emily McGinnis accounted for 13 of Jefferson's 29 kills on the night as the Lady Panthers improved to 4-2 on the season.
Despite the sweep, Anaconda kept it close throughout. Of the team's 25 kills, seniors Kelsie Oxnam and Sydnie Peterson led with six followed by sophomore Claire Miller and senior Johanna Forsberg with five apiece. Peterson and senior Carley Fink recorded 10 and nine assists, respectively.
"Right now we have three girls playing all around, and we're not quite where we need to be physically at the moment," said first-year head coach Shane Jorgensen. "We got tired towards the end of the games, but we will get there."
Defensively, it was a constant barrage of free swings from the sizable front line for the Copperheads (1-4). Anaconda recorded 47 digs led by Forsberg and Oxnam with 11, Fink's eight and Peterson and sophomore Macy Matosich with seven each.
"Knowing they were a good team last year and had some size advantages over us, I wanted us to play smart," Jorgensen said. "We don't hit it hard anyway, so I was looking for good placement on tips. We haven't hit line all year long until tonight, so you can tell they are finally getting comfortable with it."
The Copperheads had four aces on the night led by junior Arieona Mattson's team-hight two, but it was the overall performance of the team from the service line that impressed Jorgensen.
"First of all, we hit our goal serving," Jorgensen said. "We went in with a goal of 90 percent and we exceeded that as a team. We are slowly getting to where we want to be now that we've taken some of the aggression out of it. But now at least we're not making those unforced errors serving."
Anaconda was to play in the Windy City Invitational in Whitehall Saturday until the tournament was cancelled. Now, the Copperheads will still travel to Whitehall for a JV and varsity nonconference match against the Lady Trojans.
Jefferson def. Anaconda 25-19, 25-15, 25-20
KILLS — Jefferson 29 (Emily McGinnis 13, Hayden Henchel 5, Simonie Mendenhal 5, Aubrey McMaster 4, Ellie Evertz 2), Anaconda 25 (Kelsie Oxnam 6, Sydnie Peterson 6, Claire Miller 5, Johanna Forsberg 5). ASSISTS — Jefferson 22 (A. McMaster 20), Anaconda 21 (Peterson 10, Carley Fink 9). DIGS — Jefferson 48 (Jayden Armstron 21, A. McMaster 7), Anaconda 47 (Forsberg 11, Oxnam 11, Fink 8). ACES — Jefferson 5 (Ellie Evertz 2, Henchel 2), Anaconda 4 (Arieona Mattson 2). BLOCKS — Jefferson 6 (Henchel 2, Katy Twichel 2, Mendenhal 2), Anaconda 6 (Logan Stetzner 2).

Enter ad code here