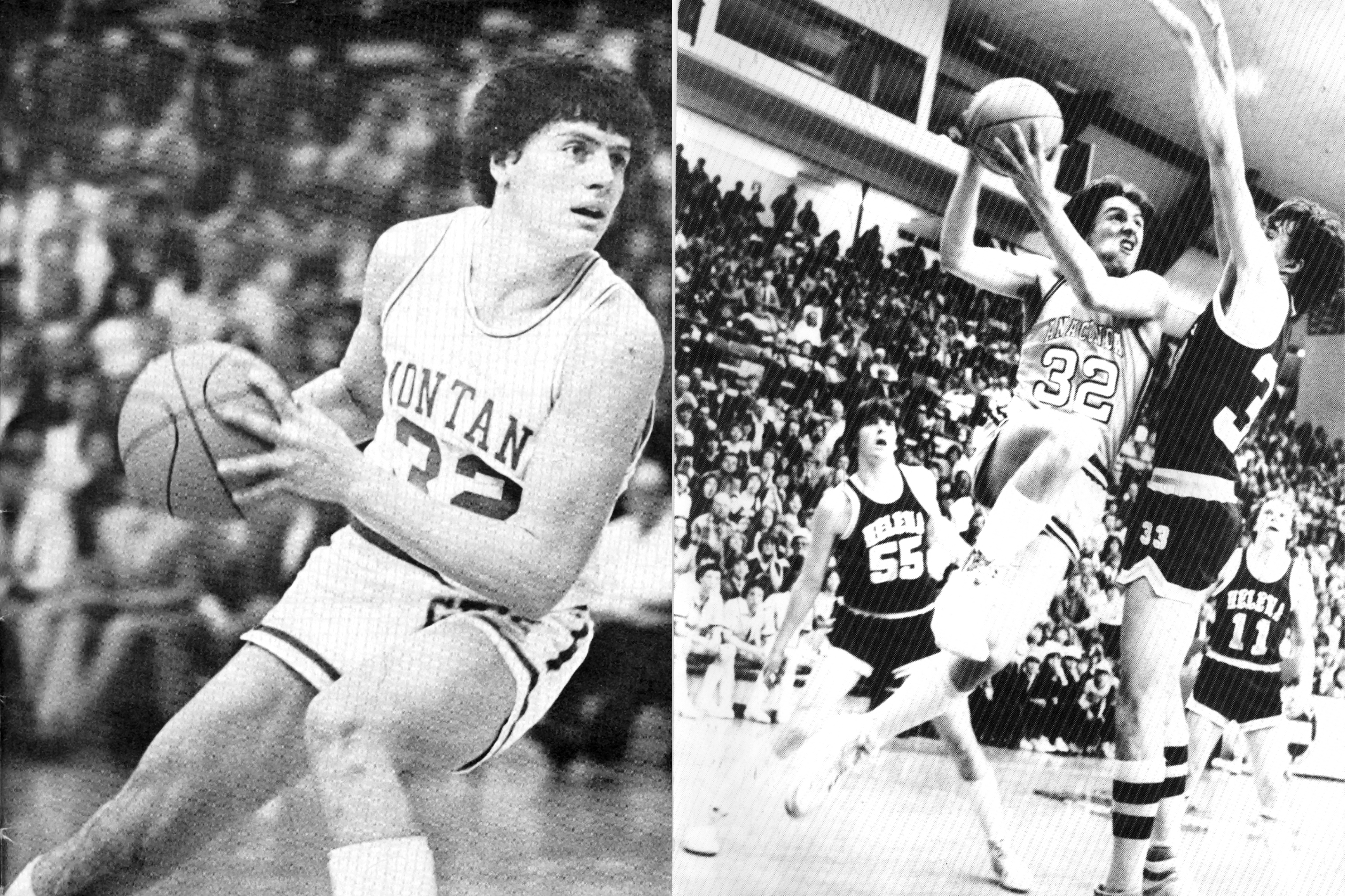 (Rob Hurley, left, and Scott Hurley both starred at Anaconda High School for the Copperheads and went on to play Division I basketball for the Griz and Bobcats. COURTESY PHOTOS)
The name most synonymous with Anaconda High is always thought to be Wayne Estes. And rightfully so. But in terms of historical accomplishments through several generations of athletes, the Hurley family is Anaconda High.
With his next five and 20 points, Anaconda senior Braxton Hill will tie the most accomplished brothers in AHS hardwood history. That in itself is something to behold.
There are five Hurley's who have eclipsed the 1,000 point club at AHS led by Ali Hurley at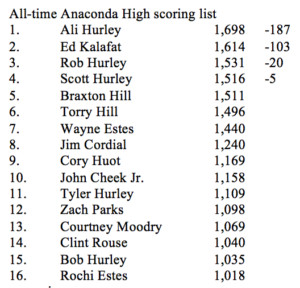 1,698. But the patriarch of them all, Bob Hurley, was the first to do it in 1954-57, averaging 13.9 ppg in 74 games.
It wasn't until Bob's sons, Rob and Scott, came along in 1977 and 1979, respectively, when the scoring prowess continued.
Fast forward to 2003, Tyler Hurley picked up where his father, Scott, left off, eclipsing the 1,000-point mark during his senior season. Ali, Tyler's sister, won a state title in 2007-08, and was named the State A MVP as a senior during a four-year career that will go down as one of the most impressive careers ever at AHS.
As Braxton continues to climb the list, I'll spotlight the players he's approaching here on Copperhead Country.
SCOTT HURLEY
Where to begin. Scott holds record for points in a season for the Copperheads, piling on 683 in 24 games during the 1982-83 season for an average of 28.5 ppg. He and Rob combined to average 32.4 (811 points) during the 1979-80 season.
Scott scored over 30 points 10 times including three times over 40. He is second with Ed Kalafat on the scoring list for points in a game with 43, accomplishing that feat on the road in Havre Jan. 14, 1983. He scored 42 and 41 points on back to back nights against Helena High and Butte High Dec. 10 and 11, respectively, during the 1982-83 season.
Scott is fifth all-time in career average at 16.8 ppg in 90 games played at AHS. Like his brother, Scott accomplished his scoring without the benefit of the 3-point line. He went on to play at Montana State after high school.
ROB HURLEY
In what's sure to have been a point of emphasis during their younger years, the older brother set the bar just a little too high. And he did it in one less year.
Rob only played varsity for three years, proving the depth and quality of the Copperhead basketball program in the late 70s. Playing AA back when Anaconda was a thriving mining community when the Washoe Smelter was still operating, the Copperheads were always in the mix for league and state titles.
Before Hill (412 points, 18.7) broke his record, Rob was the leading scorer as a sophomore (366 points, 16.6 ppg). As a senior, Rob scored 668 points and averaged 26.7 ppg, both are second to Scott. However, Rob's overall collection of work gave him 1,531 points, 15 more than Scott, and did so in 77 games, 16 less than his baby brother.
Rob's career average of 20.7 is the best ever for a male at AHS, but Hill is slowly gaining on him. Through nine games this season, Hill holds a career mark of 19.4 through 78 career games.
Rob still holds the record for points scored in a game with 44, doing so against Billings West at the Golden Dome on Feb. 20, 1980. A senior on that Bears team, Craig Hurlbert, called his feat one of the greatest displays in scoring he's ever seen. Collectively, he scored over 30 points 10 times.
For Rob and Scott to put up these kind of numbers without a 3-point line against AA opponents is a head-scratcher, especially when most of the recollections of their ability is living on jumpers 20 feet from the hoop with the defense reluctant to guard that aggressively on the perimeter.
Rob would move on to the University of Montana to play for Mike Montgomery and with his good friend and current coach of the University of Utah Larry Kryskowiak, scoring 740 points (8.2 ppg) during his four-year career for the Griz.

Anaconda will take on Whitehall in a boys-girls doubleheader Thursday at Memorial Gymnasium. The girls will start at 6 p.m. followed by the boys 7:30. You can follow the call of both games live at http://copperheadcountry.airtime.pro
*As always, the biggest of thanks goes to the late Tom White for collecting and archiving all of this statistical data.
Enter ad code here