Less that 12 hours removed from Braxton Hill's remarkable season-opening 42 points scored against Big Timber on Dec. 9, my head was still spinning. It honestly was the quietest 42 anyone has ever witnessed.
Fast forward four games and Hill provided another historical performance for us all to revel in.
And honestly, without context, his performances largely would've gone for naught.
You see, a man named Tom White is the reason all of these performances are even more worthy. Whitey, as he was affectionately known, was a teacher, coach and most importantly to this conversation, a statistical genius when the medium of the day required typewritten data calculated by hand.
Whitey passed away last year at about this time, and I wrote about his dedication HERE
When Hill scored 42, his performance would've only been rumored to be the best ever without Whitey. (to hear the entire game, log on here then go to Podcasts) Instead, we knew for a fact he was two points shy of Rob Hurley, who scored 44 without the use of a 3-point line and did it against a AA opponent, Billings West, on the road. We wouldn't have known Hill joined five other boys and one girl — his sister Torry — in the AHS 40-point club.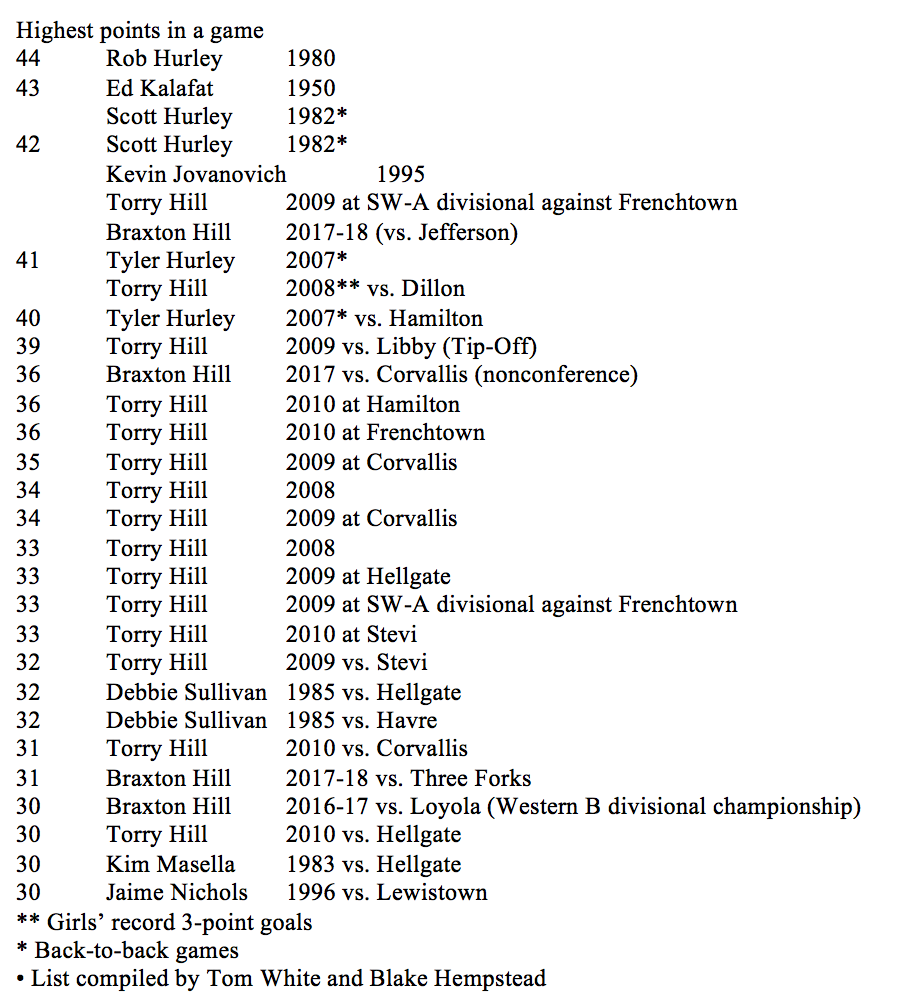 Many people would (and have) argued Wayne Estes scored at least 30 points at one point or another as a prep. But according to the rock-solid reporting of Whitey, we know that not to be the case.
When Hill passed Estes for fourth all-time on the boys scoring list, it would've been just another regular-season, nonconference 30-point performance without proper reference. Instead, we can now see just how significant the 31-point outburst was. Sure, Estes only played three varsity seasons for AHS because at that time freshmen didn't play varsity. The same can be said for Rob Hurley.
After Hill's performance, many alleged he only had one more person to pass to take over the all time scoring mark. To me, that's a slap in the face to not only the three he has to pass in order to get there but also to Whitey.
Hill must first get by Scott Hurley (1,516), then Rob Hurley (1,531), then Kalafat (1,614). Odds are he will, but leading up to that moment I want to make sure the efforts of those players during their time as preps are celebrated as well.
Whitey and I have the same vision. To promote our student-athletes when others won't. I've often said Anaconda is Syberia for athletes. After Bruce Sayler was fired at the Montana Standard, Anaconda's chances at dedicated, quality coverage also slipped away.
And for the most part, it's not the fault of the reporter tasked to cover several beats on deadline. I blame the publisher whose cost-cutting measures have also limited the exposure to satellite towns. Anaconda, Whitehall, Deer Lodge, even Dillon with all their success, suffer for coverage from the Butte-based Montana Standard because there's just not enough bodies to do it all.
When I worked at the Standard under Sayler, we had three-full time reporting contributors including a staff of 4-5 stringers and part time assistants to pick up the slack. Now, they are lucky to have three reporters in the newsroom after 4 p.m.
That's why I was so adamant on keeping these records going where Whitey left off. I've added girls to the fold in addition to picking up the pieces from 2007 on. If we don't take care of our own, these sorts of accomplishments will be lost in time.
Some of my favorite hoops stories would've just been lore; Rochi Estes' nine 3-pointers against Glendive in the state tournament against former 7-foot Grizzly and current Montana Tech assistant mens coach Derek Selvig; Tyler Hurley's back to back 41 and 40 points against Stevensville and Hamilton in 2007 at Memorial Gymnasium; Torry Hill's amazing 41 against Dillon that included a girls' school record eight 3-point baskets that sent then Lady Beavers head coach Bernie Wasser into a near panic attack; and the night Ali Hurley passed Ed Kalafat as the most prolific scorer in school history in a win against Butte Central at Memorial Gymnasium.
I wasn't on the call for Hill's epic night because of some other obligations, so I reached out to the best play by play announcer in the state Paul Panisko to see if he could help out. He didn't flinch. And I'm glad he didn't. Because of Panisko's presence, not only was Hill's accomplishments recorded it was captured on audio – something he and his family can enjoy for ever.
As he inched closer at the end of the third quarter, I realized this was going to be a great night to approach Estes. On the bench were Ron and Rochi, Wayne's brother and nephew, as assistant coaches at AHS, and two of Ron's three other children who each had success at AHS — Michael and Mia.
I was begging for Braxton to pass Wayne, just because these two families could celebrate the achievement. When it happened with 1:10 remaining, I was ecstatic. I told Mia how close he was just so they were aware. Leading into the game, only a few people really knew. PA announcer Jake Kelly was one, and once Hill made it official he announced it to the masses met by a standing ovation from everyone in the gymnasium including the visiting Three Forks fans. Why? Because everyone knows Wayne Estes. And now, everyone knows Braxton Hill.
We all rejoiced in that moment. We were not only watching history, we were actively participating in it.
After the game, I got the gang together for a photo. Hopefully it's something they will cherish for a lifetime and longer. I know I will.
I know I get a little testy when these successes get jumbled or thrown under the rug, but I beg of you, the media, if you have a question with anything associated with our kids at Anaconda High please get in touch with me. I will never do our kids wrong when promoting their efforts.
These records are to be shared, reveled in and broken.
And I can't wait for the next ones to fall.
Enter ad code here