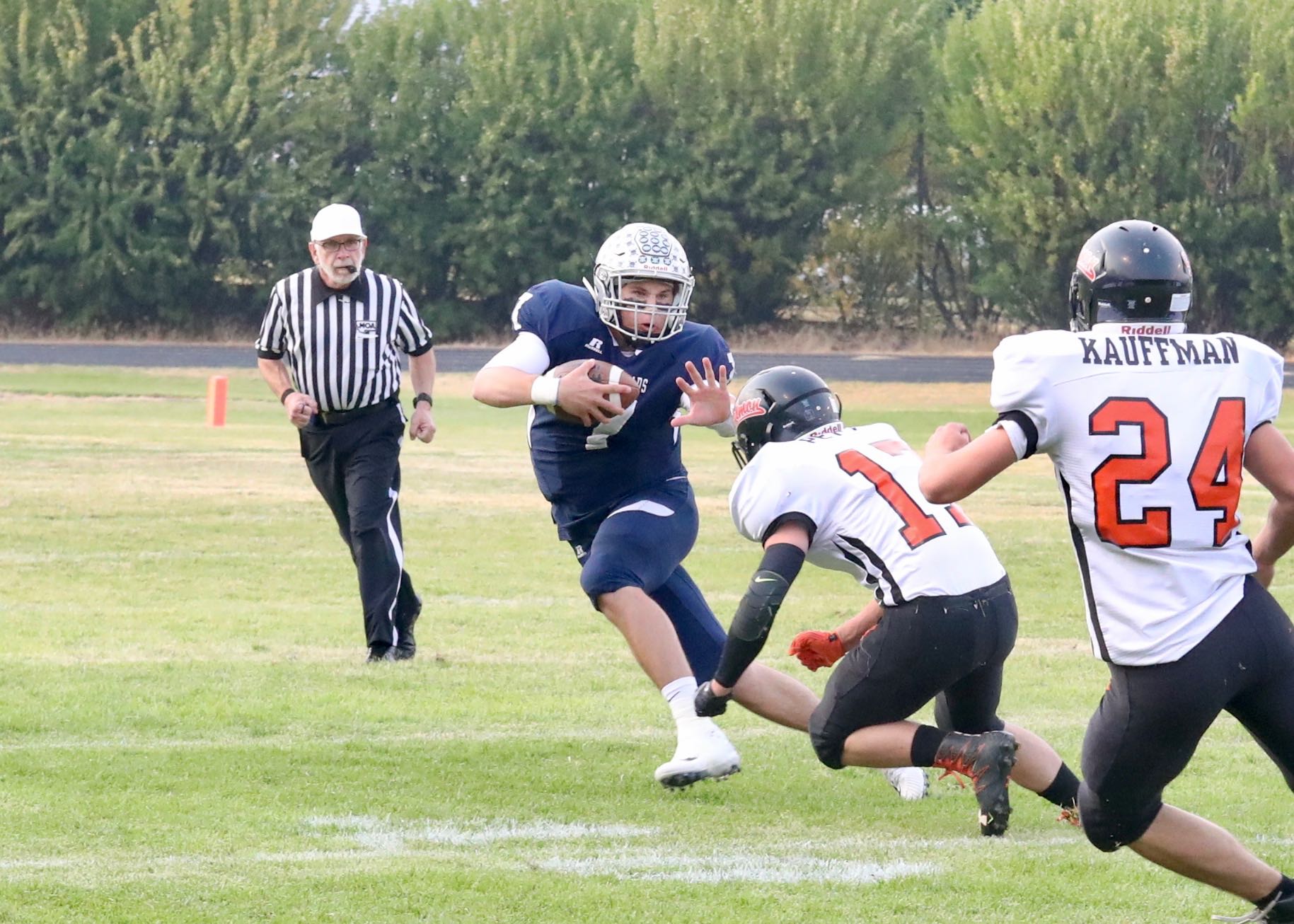 Down 21-12 at the half and having no answer for the pro-style running attack of Salmon, Anaconda had a halftime to fix what ailed them. The intermission was just what the doctor ordered.
Anaconda (1-0) scored six unanswered touchdowns after halftime and seven in total, running to a 51-29 nonconference win over the visiting Savages. Braxton Hill passed for four of his five TDs passes in the second half to lead the Copperheads to victory Friday night at Mitchell Stadium. SEE FULL STATS
"The first half was ugly, we have to clean up the penalties and it didn't help that every time they got the ball they were on the 50," said head coach Bob Orrino, detailing the problems with 10 penalties for 78 yards and lack of special teams coverage allowing field position to overwhelm the defense to start drives.
Hill completed 15 of 26 passes for 360 yards with just one interception. He hooked up twice apiece for scores to wideouts Trent Mikalatos and Bobby Swainston, and a beautiful over the shoulder score to Luke Jensen from 60 yards out for good measure.
Senior running back Gabe Byrne was a quiet assassin, rushing for 110 yards on just 13 carries with two TDs. Hill also scored on a 1-yard keeper.
On their first drive, it looked like it was going to be a walk in the park. Hill went 4-of-6 for 64 yards capped by a 10-yard TD pass to Bobby Swainston. Their PAT failed taking a 6-0 lead.
Salmon fired back a little more than four minutes later on a Sam Petty 17-yard TD run. Jesse Bellamy's PAT gave the Savages the 7-6 lead. They added to their lead in the second quarter on a 14-yard pass from Brax Kauffman to Ethan Aldous to make it 14-6.
Byrne scored from 15 yards out with 7:40 remaining, but a failed conversion pass left Salmon with the 14-12 lead.
Petty struck again with 2:24 left in the second, this time scoring from three yards out. Another made PAT pushed the lead to two scores at 21-12.
The Copperheads still had plenty of time to score leading into the half, but a quick three-and-out left Salmon with the chance to add points before intermission. The Savages drove inside the 10 and with :01 second left attempted a 27-yard field goal that was pushed wide left by Bellamy.
After the half, Anaconda's offense put on a clinic. Hill completed 9-of-11 passes after intermission, throwing for 275 yards alone in the second half.
"They got an earful at halftime, we told them they needed to start playing to their potential," Orrino said. "We came around, I'm very proud of the way they turned it around."
Hill started the scoring with 10:13 left in the third, scoring on a 1-yard run. Another failed conversion made it 21-18. Then with 2:20 showing on the clock, Hill converted on fourth down on an 8-yard pass to Swainston just inside the pylon. They hooked up again for the conversion and took the lead for good at 26-21.
Three more scores early in the fourth — a 60-yard bomb to Jensen, 5-yard slant to Mikalatos and Byrne with a 1-yard run — made it 45-21 with still 5:04 remaining.
Salmon scored on the ensuing play on a 56-yard pass to Aldous — his second TD of the game — to make it 45-29, but the damage was done. Hill added his final score with 3:43 on the clock, a 35-yard dime to Mikalatos for the 51-29 final.
Mikalatos caught three passes for 166 yards to lead the receivers in yards while Jensen and Swainton each hauled in three passes for 76 and 45 yards, respectively. Byrne caught two for 60 yards and Matt Ryan two for 15.
"(Trent and Bobby) are big targets and they're a tough matchup for teams, then Luke catches that ball from Braxton over his shoulder, he was just dropping dimes," Orrino said. "I tried to give Gabe the ball more in the first half but we were in such bad situations with penalties we had to throw the ball more."
Anaconda rushed for 144 yards total led by Byrne's 110. Hill added 34 and freshman Pat Galle had three carries for no yards.
Salmon rushed for 134 yards on 41 carries led by Petty's 69 yards on 19 carries. Kauffman was a solid 12-of-19 for 209 yards with two TDs and no interceptions.
Anaconda now travels to Bigfork for Western B play next Friday at 7 p.m.
Enter ad code here