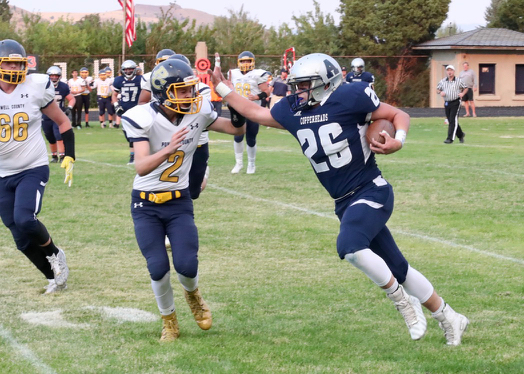 Last year, the Copperheads spoiled the playoffs for Deer Lodge on the final game of the season. This year, Anaconda took a huge step to making their own push to the postseason.
Anaconda junior Luke Jensen passed for two touchdowns in his first career start, but it was his decision making on the final play of the game that secured a 27-22 victory over Deer Lodge Monday evening at Mitchell Stadium.
On 4th and 4 with the Wardens defense keying on tailback Gabe Byrne, Jensen ran for seven yards on the zone read that effectively iced the win.
"We were running inside zone the whole second half and I told Luke to be patient, it's going to be wide open," said head coach Bob Orrino following the win that pushed Anaconda to 2-1 overall and 1-1 in the Western B. "He hit the corner and cut back to stay in bounds. That was huge."
Jensen was just 6 of 18 for 131 yards, a work in progress getting into sync with his receivers. On designed plays he was on the money, hitting Gabe Byrne for an 83-yard strike in the second quarter and on a skinny post to wideout Trent Mikalatos in the fourth from eight yards out.
"He was nervous, but he settled in as the game went on," Orrino said. "I was telling him to just relax and play the game at your speed. We trust him to do good things."
Byrne was again nearly unstoppable. He rushed for 106 yards on 17 carries, caught three passes for 108 yards and scored two TDs — an 11-yard run to put Anaconda on the board with 5:10 left in the first and the deep pass from Jensen.
After Byrne's scores made it 15-0, Deer Lodge scored 14 unanswered capped by a 61-yard run by Zack Haevner with 3:33 left in the third. Anaconda answered quickly with a 5-yard TD run by sophomore Austin Anderson — his first career touchdown. With the failed PAT, Anaconda led 21-14 with :29 left in the third.
After a fourth down stop by Anaconda's defense deep in Wardens territory, Jensen's pass to Mikalatos — his only reception of the game — gave the Copperheads a 13-point lead at 27-14.
Deer Lodge answered in just over four minutes with a 4-yard TD run by Riley Boese, while starting quarterback Greydon Nicholson added an acrobatic two-point conversion run to pull within five at 27-22 at the 3:03 mark.
An attempted onside kick was handled by Mikalatos, followed by two Copperhead first downs. Out of timeouts, Jensen kneeled on it twice to end the game.
Afterwards, Orrino was disappointed is some aspects but happy with the league win. Penalties and the emotion of the rivalry is going to be a point of emphasis moving forward, but in the end a win is a win.
"This game has been very emotional for both sides, it seems to be bigger every year," Orrino said. "I give a lot of credit to Deer Lodge, they came out and played us right to the end. We left some points out there and we need to play smarter, so to get a mark in the win column feels good."
Senior running back Matt Ryan and Anderson had career games of their own. Ryan rushed for 70 yards on three carries and pulled in two passes for 15 yards while Anderson accounted for 41 yards on eight touches.
Deer Lodge's Nicholson was 6 of 10 for 94 yards and a perfect 3 for 3 in the second half. Haevner led the Wardens with 117 yards on eight carries in addition to Boese's 64 yards on 18 touches. The Wardens moved to 0-3 on the season.
Anaconda will be in Worden Friday for a nonconference game at Huntley Project. The Red Devils are coming off a loss to Manhattan last week.
Enter ad code here