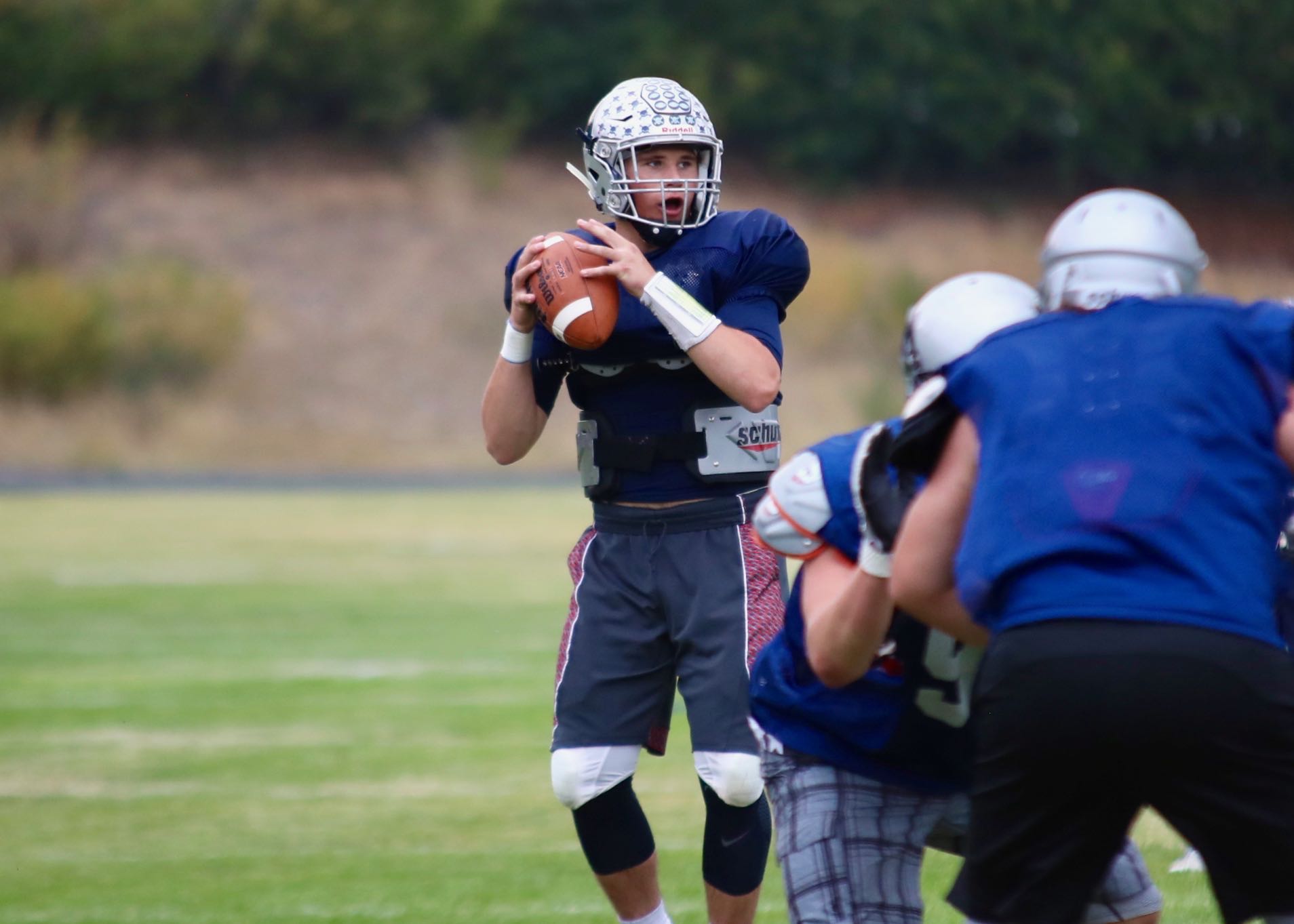 Ask anyone close to the Copperhead football team and they'll tell you this year has been bookmarked for some time. The buzz is real.
With a crop of seniors who have seen the lopsided years in Class A as freshmen and what they believe to be unrealized goals in their first two years in the Class B ranks, Week 1 of 2017 has been on their calendars since last October.
Anaconda will play host to Salmon, ID to kick off their third season in Class B Friday night at Mitchell Stadium.
Eleven seniors — what is thought to be the largest number during the coaching stint of Bob Orrino — and a collection of underclassmen with varsity experience are ready for some unfinished business.
"I think I counted up to 10 guys with two years of starting experience behind them," said Orrino, who enters his eighth year at the helm of the Copperheads. "We have skill guys returning all around the field, some guys who have been running the offense for two years. We're ready to get out there and show what we can do."
The Copperheads were left out of the playoffs last year, but it wasn't because they didn't belong. A win over Manhattan, 1-point loss to Whitehall and 6B setbacks to Ronan and Missoula Loyola — all teams who recorded at least one win in the State B playoffs, showed they were good enough to be in the field. In many cases, depth on both sides of the ball was Anaconda's Achilles heel. Orrino says 2017 will be a whole new ballgame.
"If Im a (defensive) coordinator game-planning for us, I don't know what I'd do," he said. "I have three outstanding receivers, a quarterback that can get them the ball and a running back package that's deep. In the past, we've had some great skill position players here and there, but we haven't ever had this many at one time on the field."
Third-year starter Braxton Hill (6-2, 225) is back for his senior season at quarterback after throwing for 1,437-yards and 10 TDs. He also led the team in rushing touchdowns with six. Both his leading receivers in terms of TDs in Bobby Swainston (6-2, 185) and Trent Mikalatos (6-5, 215) are returning seniors and newcomer Gabe Byrne (5-10, 205) — who sat out his junior season after transferring from Granite Co. — are explosive playmakers wherever they line up. Coupled with senior running back/slot receiver Matt Ryan (5-9, 150) and receiver/back up QB junior Luke Jensen (6-0, 175), the offense is primed to put up some numbers this year.
Anaconda's offensive and defensive lines probably took the hardest hit to graduation, but it still boasts players with several years of varsity experience. Senior center Landon Forsberg (5-10, 275), left guard junior Aric Strutzel (6-0, 200), right guard senior Kynan Kellegher (6-4, 300) and left tackle Riley Cobban (6-4, 210) all have starting experience. Junior Trey Hendrickson (6-1, 210) earned his starting role in camp.
Orrino says it's nice to have this amount of natural athletic depth but credits the dedication to the program and offseason weight training to make the team even better.
"The weight room and speed and agility in the offseason was big for us," he said. "Some of the younger guys are looking up to the older ones, and they are brining them along nicely. They have a good time in the weight room, Dustin (Hanson) does a good job with them."
Defensively, Anaconda will mix it up with 4-3 and 4-4 base defenses to take advantage of an athletic linebacking corps and secondary. Up front, Forsberg, Kellegher and defensive ends Mikalatos and Cobban will get after the passer. Linebackers will consist of Hill (Mike), Byrne (Sam) and junior Dylan Skocilich (5-7, 145), corners Ryan and Jensen, strong safety Swainston and sophomore free safety Dan Byrne (5-8, 140).
"Offensively, we're going to get out there and run a fast tempo, but defensively we're going to be solid," Orrino said. "In the past we were hiding some kids. We aren't hiding anyone and we even have some waiting to get their turn who will get the job done."
Friday's game will be streamed live at copperheadcountry.airtime.pro starting at approximately 6:30 p.m. Kickoff is at 7 p.m.
For a complete list of Copperheads on the roster, click HERE:
Enter ad code here