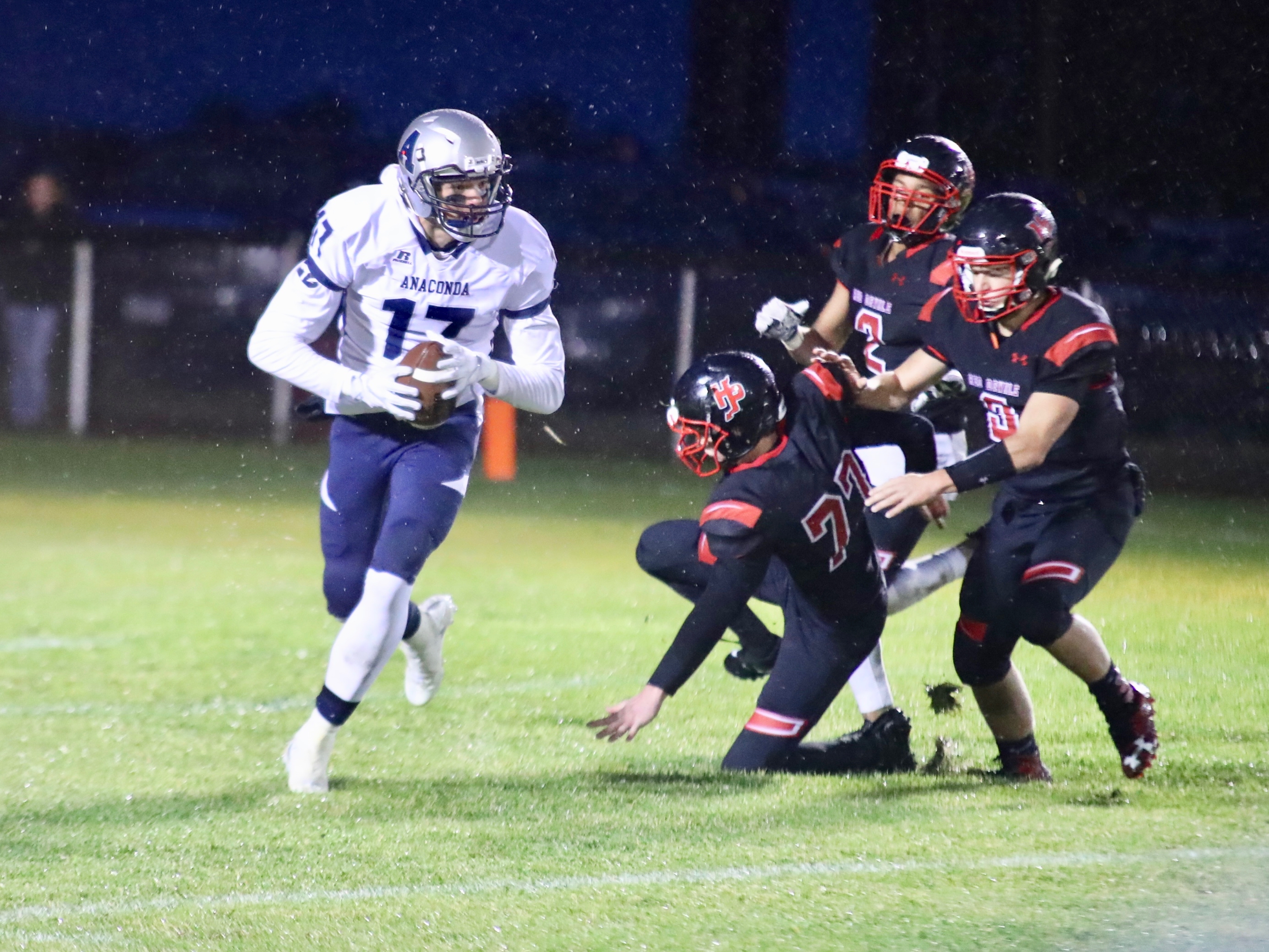 WORDEN — After any loss, it's tough to come to grips with the outcome. Following Anaconda's 45-0 loss against perennial Class B powerhouse Huntley Project, those questions became louder than ever.
Down a starting quarterback and running back before the game even started — seniors Braxton Hill and Gabe Byrne — not to mention two-way senior starter Matt Ryan after the first series with a suspected concussion, Anaconda had their work cut out for them.
Huntley didn't care who was on the field, and playing as well as they did despite the horrid field conditions that dumped inches of standing water on the ground showed it.
Huntley scored on their first possession of the game and immediately after back-to-back onside kicks were recovered to put Anaconda in a deep hole before many fans had even arrived.
Montana State commit Lane Sumner was as good as advertised, rushing for three TDs and three conversion runs in the first quarter alone capped by 65-yard run within time remaining in the first quarter. With the score 38-0 and the clock running due to the 35-point mercy rule, Anaconda was at odds on what to do.
The Copperheads chose health over heart, even though many starters played to the bitter end.
The final score came on a 30-yard TD catch to Reynolds with 7:17 left in the second quarter, the lone PAT of the game made it 45-0.
The final numbers were ugly; Anaconda managed only 37 total yards of offense — their longest play coming on a 30-yard run by quarterback Luke Jensen in their first series. After that it was all Red Devils.
Jensen went 1-of-12 for three yards, his lone completion to Dan Byrne, with two interceptions. One bright spot was the play of freshman QB Braedon Sawyer – who was playing his first game at the position. Sawyer completed 3-of-7 for for a modest 12 yards with no INTs, and also rushed four times for a minus-11 yards after being sacked three times.
Senior wideout Trent Mikalatos caught two passes for nine yards while Jensen had one reception for three yards.
Anaconda will be back in action Friday after another long road trip, heading to Eureka for a 6 p.m. kickoff in Western B play. Live coverage can be heard on copperheadcountry.airtime.pro
Enter ad code here