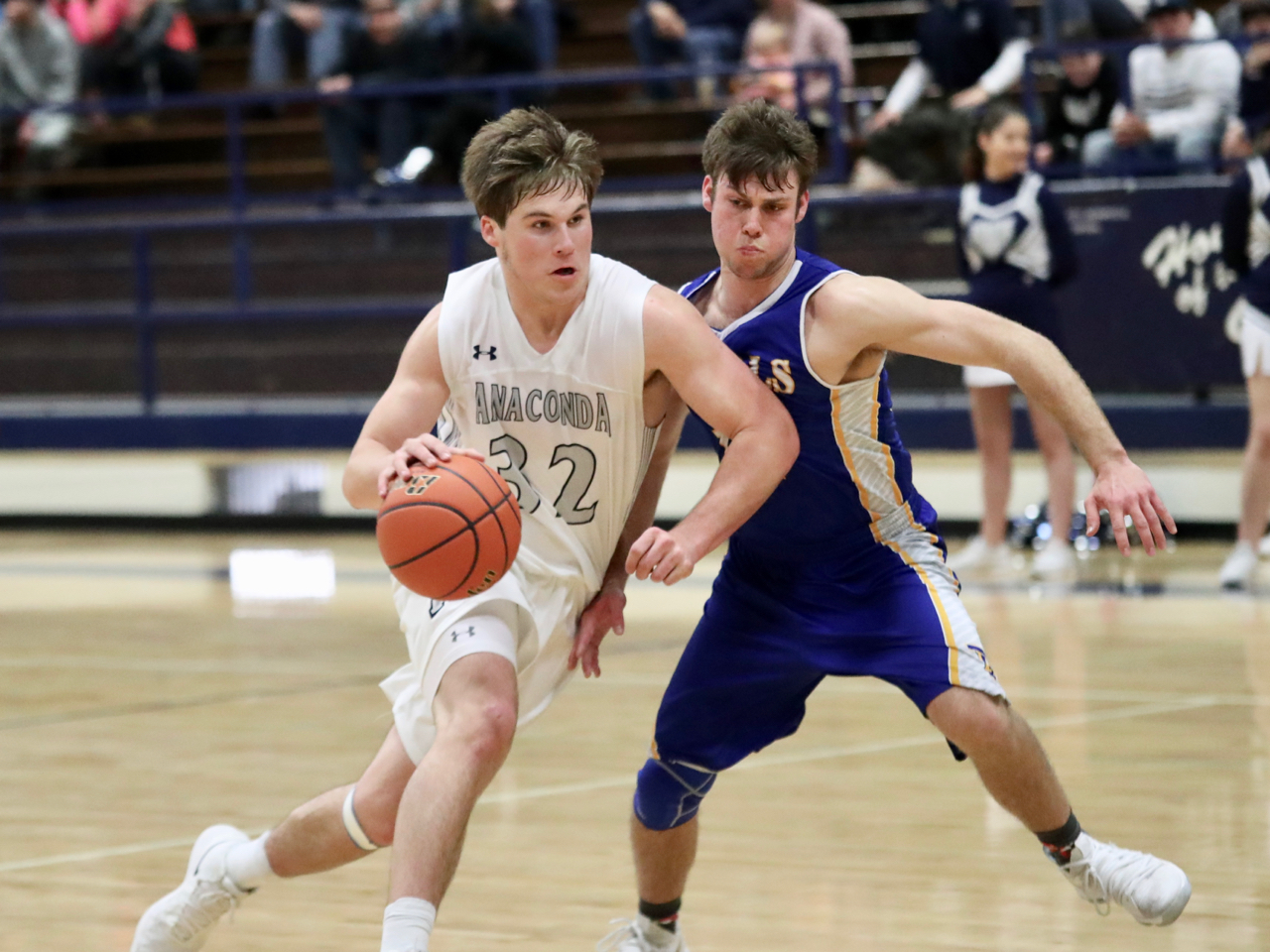 Braxton Hill drives past Nathan Theibault during the fourth quarter Saturday at Memorial Gymnasium. COPPERHEAD COUNTRY/Melissa Hempstead)
What a night for the Copperheads. With a depleted bench, Anaconda took every haymaker and then some thrown by the Blue Hawks. But in the end, the Copperheads were just too tough from the free throw line.
Anaconda made 11-of-12 free throws down the stretch to hold off Thompson Falls 80-75 Saturday night at Memorial Gymnasium.
Copperhead senior Braxton Hill led the team with 33 points including 14 of 15 from the line with 9-of-10 in the fourth quarter alone. But it was his first free throw with 6.8 seconds left that not only iced the game but resulted in the talented senior passing the one and only Ed Kalafat as the all time leading boys' scorer in Anaconda High history.
Kalafat's 1,614 points led the boys list since 1950. Hill, now at 1,616 after Saturday's performance, just has 82 points to tie Ali Hurley (1,698) for the most points ever at AHS regardless of gender.
"It meant a lot having all the support out there," Hill said after the win. "It was awesome to break the record and on top of that we got an awesome team win."
"I want to pass along my congratulations to him," said a stoic Ed Kalafat via telephone from his home in St. Paul, Minn. "From what you've been telling me he's a fine young man and I look forward to meeting him when I get back that way."
Despite Hill's feat it can be argued he was possibly upstaged a little bit by the amazing 36-point performance by Thompson Falls senior Danny Hoisington.
Hoisington made 13 total field goals with two treys and a perfect 8-of-8 from the foul line to pace the Blue Hawks. Teammates Payton Frields and Nathan Theibault each had 16 and combined to drain seven of the teams 10 3-pointers on the night.
The Blue Hawks were without a doubt the faster team on the floor, scoring most of their field goals in transition in the first half. But thanks to a season-high 19 from senior wing Bobby Swainston and career-high 13 from both freshman Braedon Sawyer and sophomore Michael Galle, Anaconda managed to remain on top for most of the first three quarters.
"We are definitely getting a lot more comfortable playing together," Hill said. "Braedon did a great job, Bobby is always a great competitor and Mike is learning more and more every game. Everyone stepped up to earn the win."
Frields and Hoisington got the Blue Hawks off to a great start in the fourth taking a 57-53 lead with 5:54 remaining, but a gutsy trey by Sawyer out of the corner with just under three minutes left — his third of the game —stretched the lead to 69-63.
Hoisington then made back-to-back circus shots in transition brining it back to a one possession game at 69-67 with 1:30 left, however Anaconda continued to pile it on from the charity stripe.
Now at 9-4 overall and 3-2 in the 6B, Anaconda will host Mission in a district game Tuesday at Memorial Gymnasium.
To listen to the record-breaking performance, long on to copperheadcountry.airtime.pro and click on Podcasts. The game is at the top of the downloads.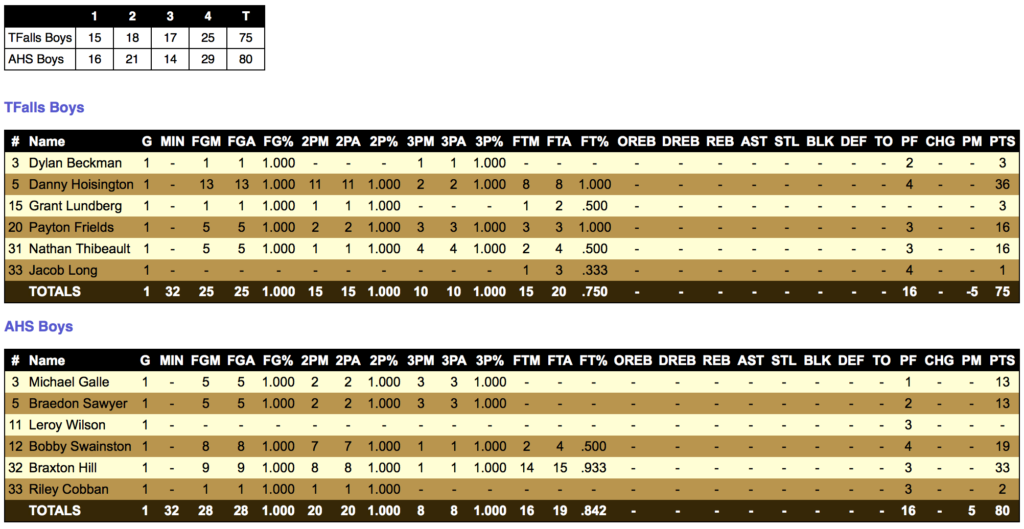 Enter ad code here