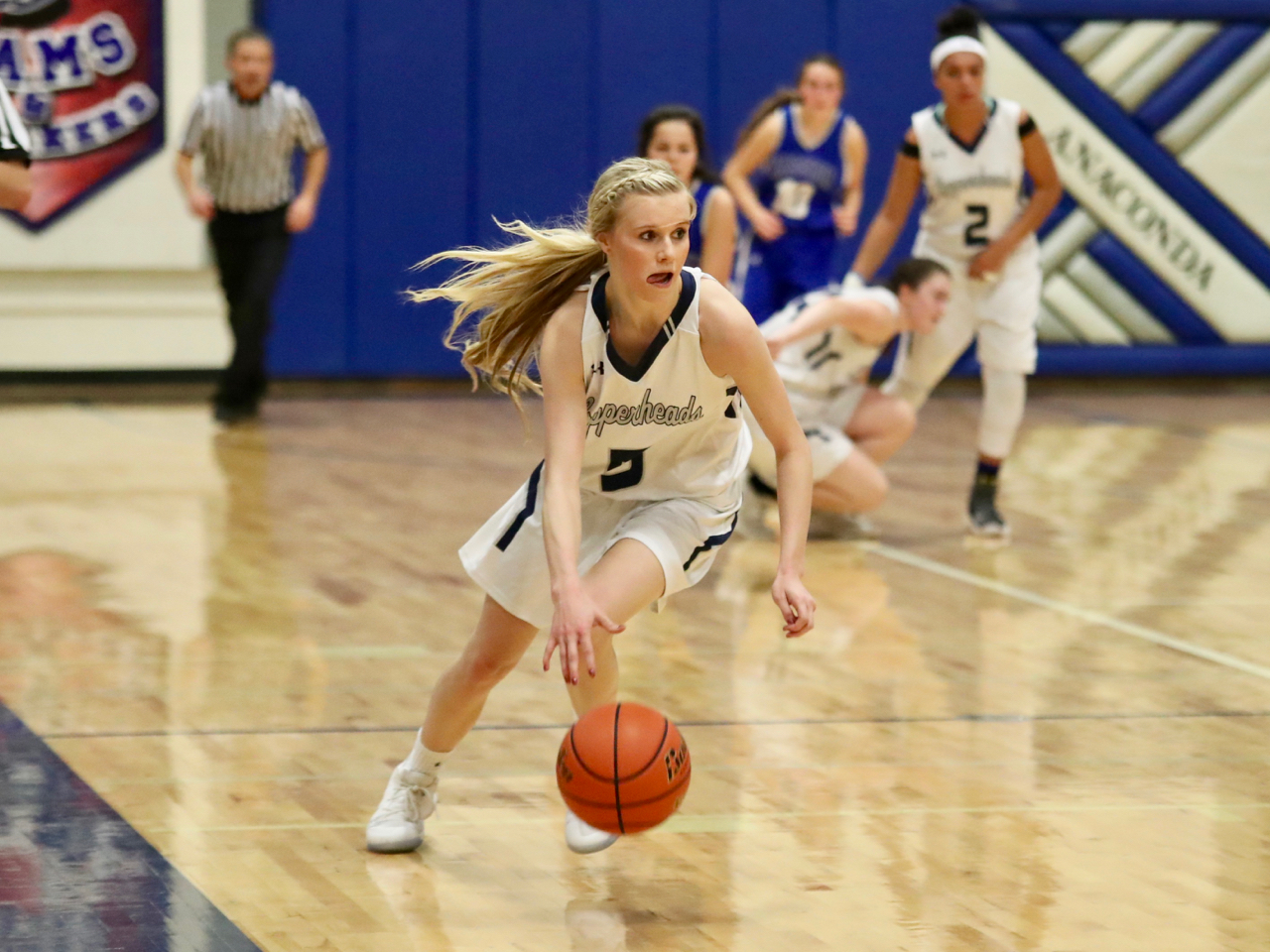 (Sydnie Peterson leads the break during Thursday night's home-opening win at Memorial Gymnasium. PHOTO COPYRIGHT COPPERHEAD COUNTRY/Melissa Hempstead)
Anaconda scored as many points vs. Mission than they did in the two previous games combined, running the Bulldogs out of the Snake Pit 77-29 Thursday night in a 6B district matchup.
The Copperheads put four players in double digits and all but one player who suited up scored. Sydnie Peterson led all scorers with 17, Mia Sullivan-Sanders netted a career High 16, Logan Stetzner added 13 and Isabel Saltenberger had 12 to pace the 'Heads.
Defense played a big part it the 29-7 start in the first quarter. Full court pressure and an up-tempo style preached by second-year head coach Brian Evans had the team playing fast and loose.
"My favorite part of the game was at halftime and after the game, I couldn't get a word in with them they were so happy, goofy and giggly," Evans said. "They love being around each other which is what we were missing last year."
Freshman Megan Reich also poured in a career-high nine followed by Lyndsey Seitzinger's seven and Kira Morse's three — which was her first career varsity points.
"The shots were going in and they all got a lot of playing time," Evans said. "Our two freshman putting up great numbers (Mia and Megan) and the whole team getting up and down the floor like that – that's how I want to play. And we could've had more points, we had a few passes slip through hands under the basket."
Mission (1-2) was led by Afton Brander'11.
Anaconda will now have a tough nonconference road ahead. They travel to Bigfork Saturday and then host Three Forks in a doubleheader Tuesday.
"Both teams are two of the best in Class B, we are going to have our hands full," Evans said.
Enter ad code here