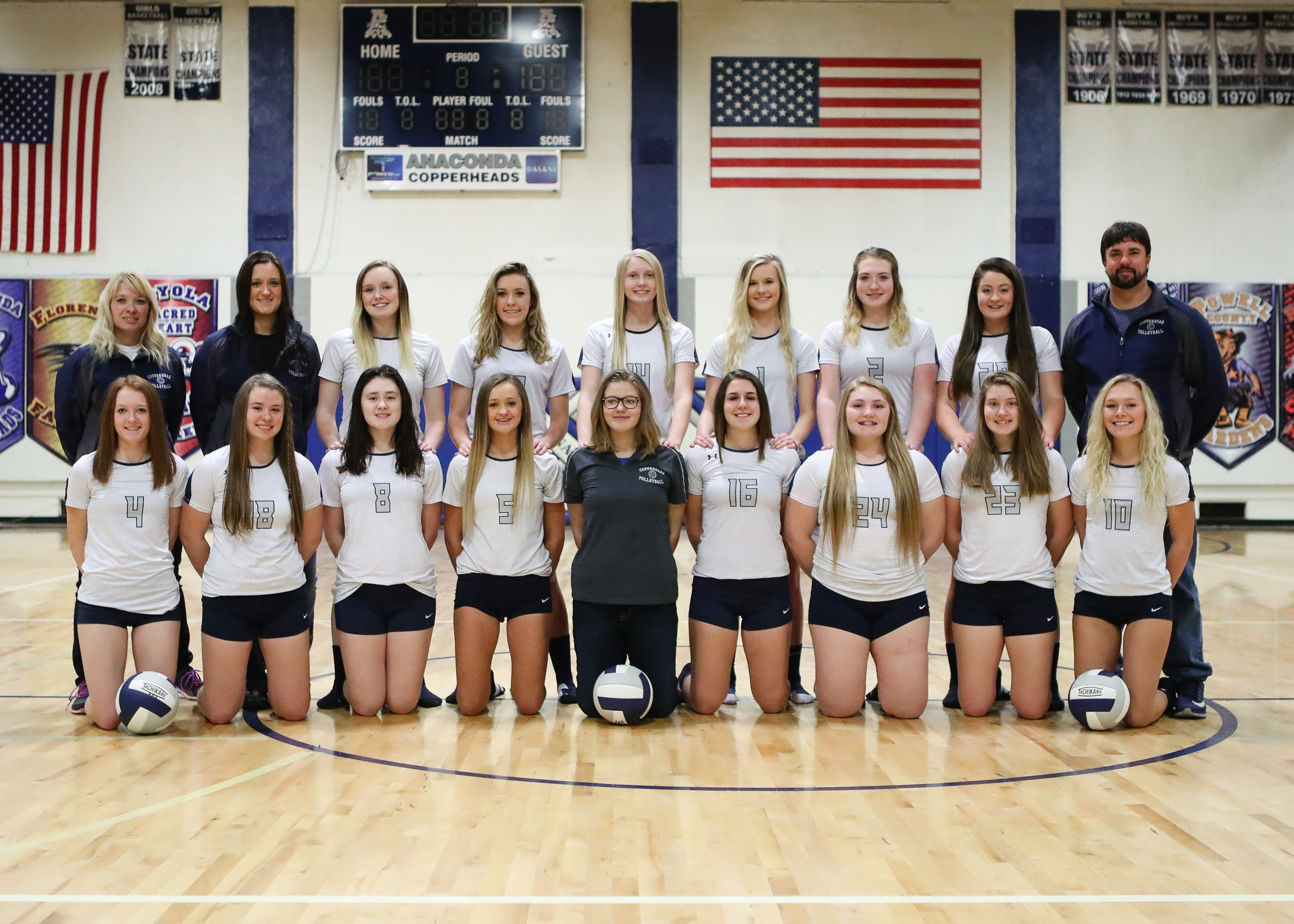 (The 2017 Anaconda Copperheads. Front row: Lindsay Seitzinger, left, Macy Matosich, Logan Stetzner, Kelsie Oxnam, manager Serina Brosseau, Claire Miller, Johannah Forsberg, Kira Morse and Carley Fink. Back row: Assistant coaches Laura Jorgensen, left, and Brianna Orrino, Rylee Jo Johnson, Trinity Herman, Arieona Mattson, Sydnie Peterson, Isabel Saltenberger, Maddison Collinsworth and head coach Shane Jorgensen. PHOTO COPYRIGHT COPPERHEAD COUNTRY/Blake Hempstead
EUREKA — Anaconda enters the Western B Divisional volleyball tournament with high hopes, or as first-year head coach Shane Jorgensen calls "a new season" Thursday afternoon at Eureka High School.
The Copperheads (5-11, 3-5) enter the postseason with the No. 3-seed out of the 6B and will take on 7B No. 2-seed Bigfork at 4 p.m. Anaconda lost to the Valkries 3-1 on Sept. 9 at Memorial Gymnasium, a game that Jorgensen says, "we gave away."
Anaconda enters the tournament with five seniors and a slew of underclassmen who have juggled positions all season to find the right chemistry. All told, 10 players have played in at least 46 of the 56 sets for the Copperheads this season.
Senior middle blocker/setter Sydnie Peterson leads the team in kills (109) and blocks (16) and is second in assists (144) and aces (29). Senior setter Carley Fink leads the team with 192 assists and the senior duo of Johannah Forsberg and Kelsie Oxnam lead the team in digs with 216 and 213, respectively. Oxnam also leads the team with 34 aces and 112 points off service.
If Anaconda wins they will play the winner of Florence/Thompson Falls 2 p.m. game. A loss would put the Copperheads at noon on Friday against the loser of Florence/Thompson Falls.
Enter ad code here