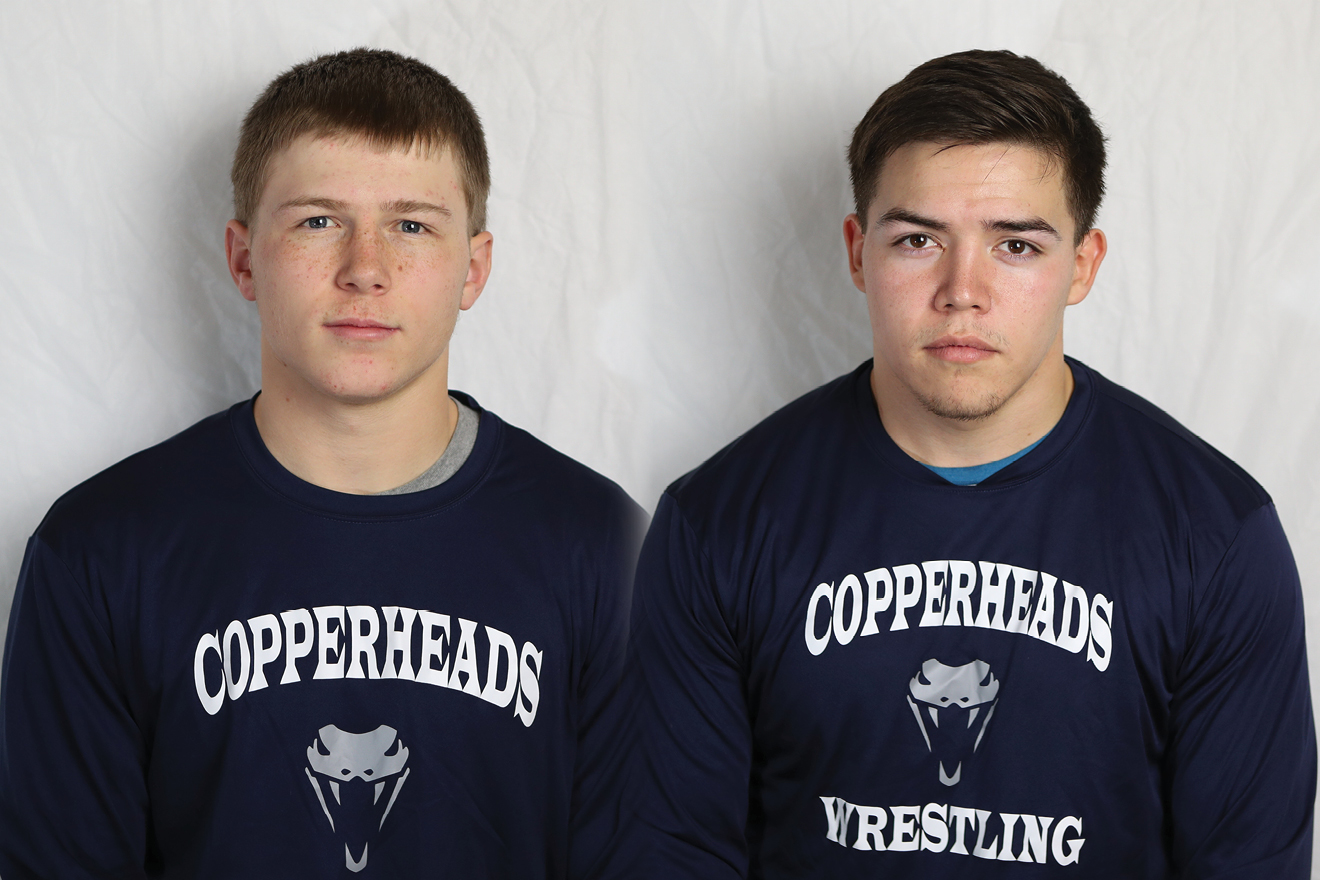 Dylan Skocilich, left, and Clancy Gout
Coming off what fourth-year head coach Joe Casey called a great learning experience for a young team, the Copperheads will put their talents on full display for the first time this year Thursday night at the Snake Pit.
Anaconda will host Mission starting at 6 p.m., the first of five dual meets the Copperheads have at home this year.
Last weekend, the team got their first action on the mats with a two-day tournament at Cascade. A year removed from winning the same tournament, the team took home sixth with only one senior — 205 pound transfer from Libby Clancy Gout — winning his bracket.
"We didn't bring as many kids but they still wrestled their butts off," Casey said. "Clancy did really well for us, Mason (Worl) took second, but what we learned is we need to really start cranking it up. There is a lot of talent in our division and we don't want to get behind."
Casey said the team started with over 30 wrestlers to begin the season but has whittled the room down to a solid 26. Although he is always looking for more, the team has been stabilized from a solid AAU feeder and Middle School programs.
"The first year we had nine kids the first day of practice, the second year we had 10. Ever since then we've had a full team for duals, so we have things going in the right direction," Casey said. "The more guys you have the more you can match up at practice and get some good work in, give some guys some opportunities to improve."
Thursday's dual is the kickoff to three-straight days of wrestling with the 'Heads traveling to the Whitehall Duals Friday and Saturday.
COPPERHEAD 2017-18 WRESTLING SCHEDULE
Roster
Mason Worl….103….fr
Cho Frilis….113…. jr
Bridger Krumm….120….so
Thomas Blaz….120….jr
Caleb Thompson….120….so
Jacob Phillips….126….fr
Kyle Adams….126….jr
Shawn Cline….126….fr
Wyatt Theard….132….fr
Dan Byrne….132….so
Johny Brock….138….so
Zach Gwin….138….sr
Timmy Moses….138….fr
Anthony Forsman….145….so
Brandon Seitzinger….145….fr
Dylan Skocilich….152….jr
Grady Snow….170….so
Owen Mudd….182….fr
Jake Whaley….182….so
Connor Sampson….205….jr
Liam Barrington….205….jr
Thad Howser….205….fr
Anthony Barrington….205….sr
Clancy Gout….205….sr
Aric Strutzel….215….sr
Landon Forsberg….270….sr
Enter ad code here