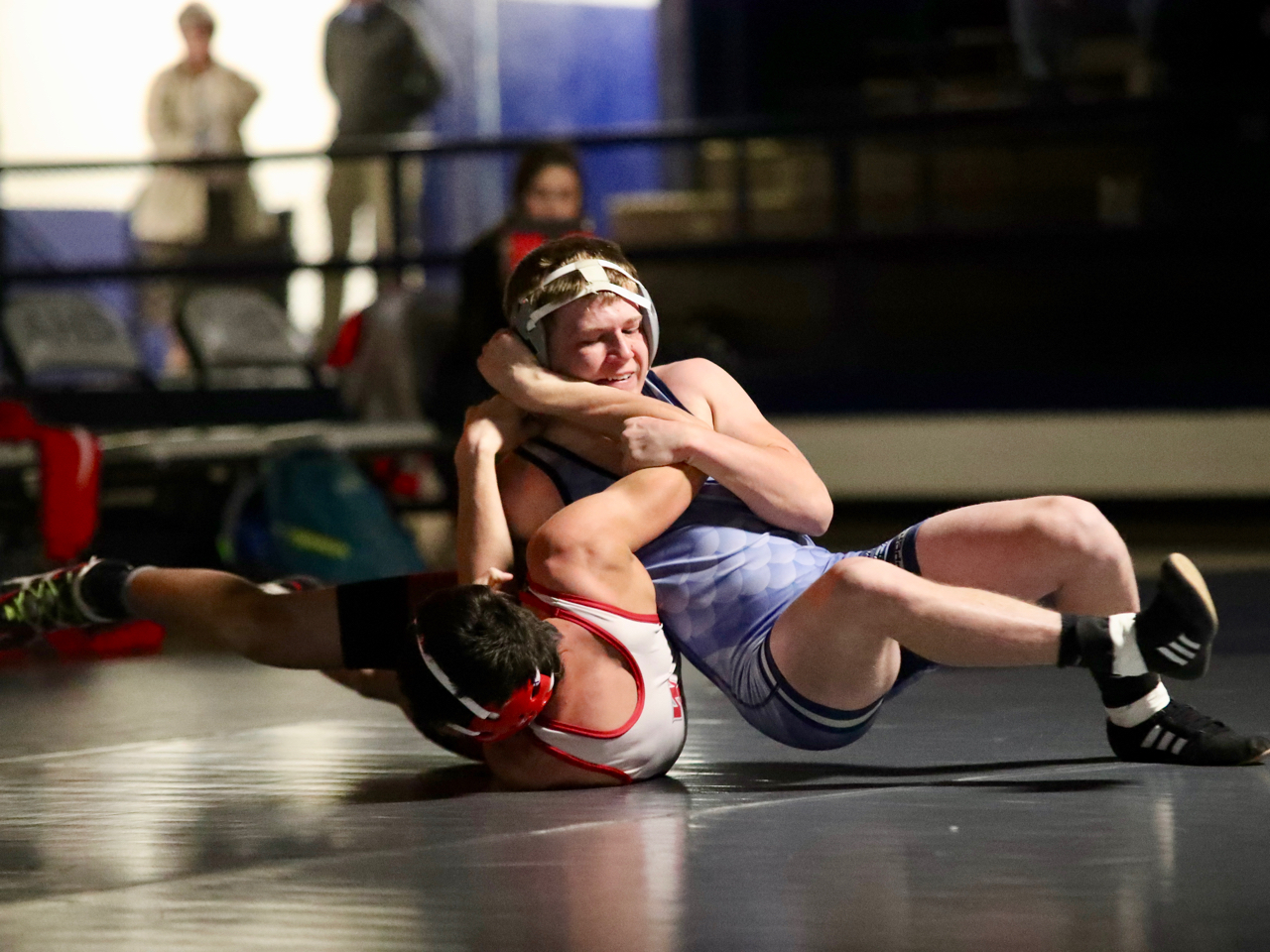 (Anaconda's Dylan Skocilich recorded one of four pins for the Copperheads Thursday night at Memorial Gymnasium.)
Anaconda got major contributions spread across the lineup highlighted by the first ever match, win and pin by a jubilant junior 170-pound Luke Jensen to roll over Arlee 36-23 Thursday night at Memorial Gymnasium.
Jensen's pin was not only his first varsity match, but his first official wrestling match period. After fighting off an early takedown, Jensen caught Arlee's Mattio Santos in a switch and pinned him in 1:46.
Jensen's match, which made it nearly impossible for Arlee to make a comeback, was sandwiched between two dominant outings by 152-pounder Dylan Skocilich and 182-pounder Grady Snow — both wins for Anaconda.
Skocilich led 14-0 after the second period, and after surrendering an escape point, pinned Demitrix Austin at the 5:33 mark. Snow's win was over in a heartbeat, pinning Ashley Potts in :23 seconds.
Sophomore Dan Byrne also earned six team points with a pin over Kanoa Palazzolo at the 2:23 mark in the second period.
Anaconda will be back in action next Thursday at the Boulder Mixer before heading to the two-day Choteau Invitational on Friday and Saturday, Jan. 12-13.
Anaconda 36, Arlee 23
103 — Jace Samsel, Arlee p. Cho Friss, :43; 113 — Open. 120 — Open. 126 — Tom Blaz, Anaconda, won by forfeit. 132 — Colt Crawford, Arlee tf. Wyatt Theard, 16-0; 138 — Dan Byrne, Anaconda p. Kanoa Palazzolo, 2:23; 145 — Skylar Titsworth, Arlee p. John Brock, 3:02; 152 — Dylan Skocilich, Anaconda p. Demitrix Austin, 5:33; 160 — Open. 170 — Luke Jensen, Anaconda p. Mattio Santos, 1:46; 182 — Grady Snow, Anaconda p. Ashley Potts, :23; 205 — George Schick, Arlee p. Liam Barrington, :56; HWT — Connor Sampson, Anaconda, won by forfeit.
Enter ad code here