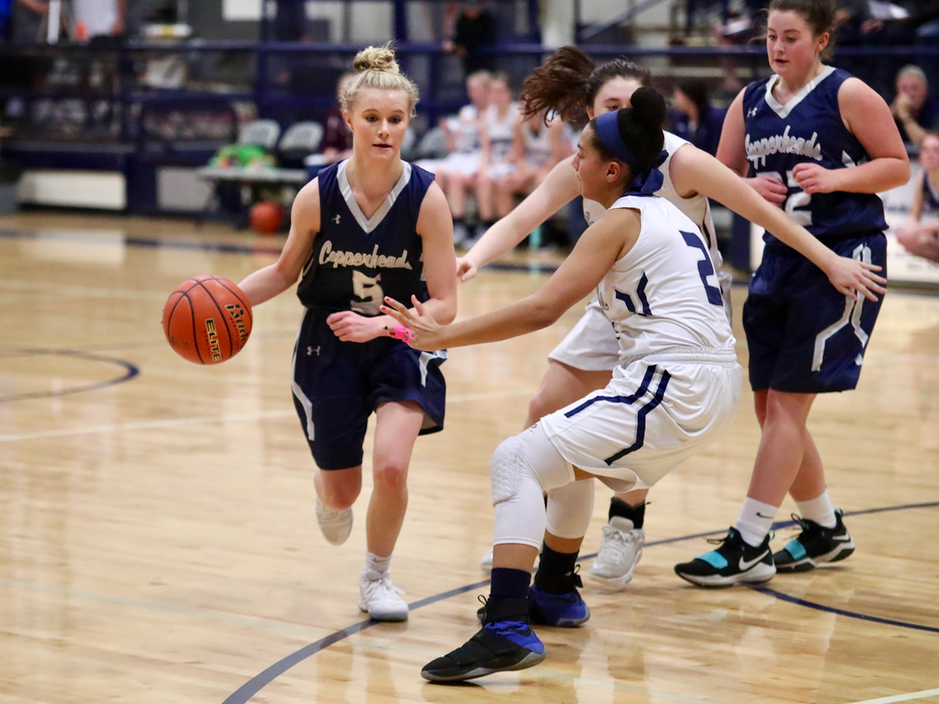 (Sydnie Peterson leads the Copperheads into action today as the start the 2017-18 season against loaded Twin Bridges in Three Forks. PHOTO COPYRIGHT COPPERHEAD COUNTRY)
A year removed from a 5-15 campaign, the Copperhead girls are determined to flip the script. And with four players who earned starting roles and seven who played significant varsity minutes, this is the year to do just that.
As second-year head coach Brian Evans sat down to discuss his team, sophomore Audrey Forsberg hit a half court bomb during a pregame practice ritual established last year by the team. As the team erupted in cheers, a smile washed over the face of Evans.
The mood around the team has been infectious, according to Evans, a trait he hopes carries over into the season.
"The girls all seem to really enjoy playing together," he said. "We had a great summer program, and from where we are at last year at this time to this year is night and day."
That's a great sign for a team that started 2-0 in the Imery's Tip Off Tournament in Three Forks with wins over Big Timber (61-51) and Jefferson (62-59 in OT). Unfortunately, Anaconda's season spiraled downhill after that point thanks to a brutally tough nonconference schedule against Butte Central, Frenchtown and Three Forks — all losses and all before the Christmas break.
Evans admitted his team was more laid back and careful last year. Deliberate offense and back end zone defense was the norm, but only because the team was limited in certain areas.
"We want to push the ball a lot more this year," he said. "With our athletes, I think it fits us better."
Anaconda is returning just two seniors in point guard Sydnie Peterson and forward Johannah Forsberg, however Forsberg is out indefinitely with a injury. Peterson returns after leading the team in almost every offensive category from last year, averaging 9.8 points, 2.9 assists and 2.6 steals.
Juniors Arieona Mattson, Lindsay Seitzinger and a deep sophomore class including Isabel Saltenberger, Logan Stetzner and Claire Miller and freshmen newcomers Mia Sullivan-Sanders and Megan Reich will round out the weekend lineup.
"Our main goal is to improve on last year," Evans said. "Hopefully we can get into the Divisional without having to worry about the Play-In game, and once we are there manage to win a few games."
The Copperheads take on perennial powerhouse Twin Bridges at 1 p.m. Friday, then take on Big Timber at 1 p.m. Saturday. Both games can be heard live on http://copperheadcountry.airtime.pro
Enter ad code here