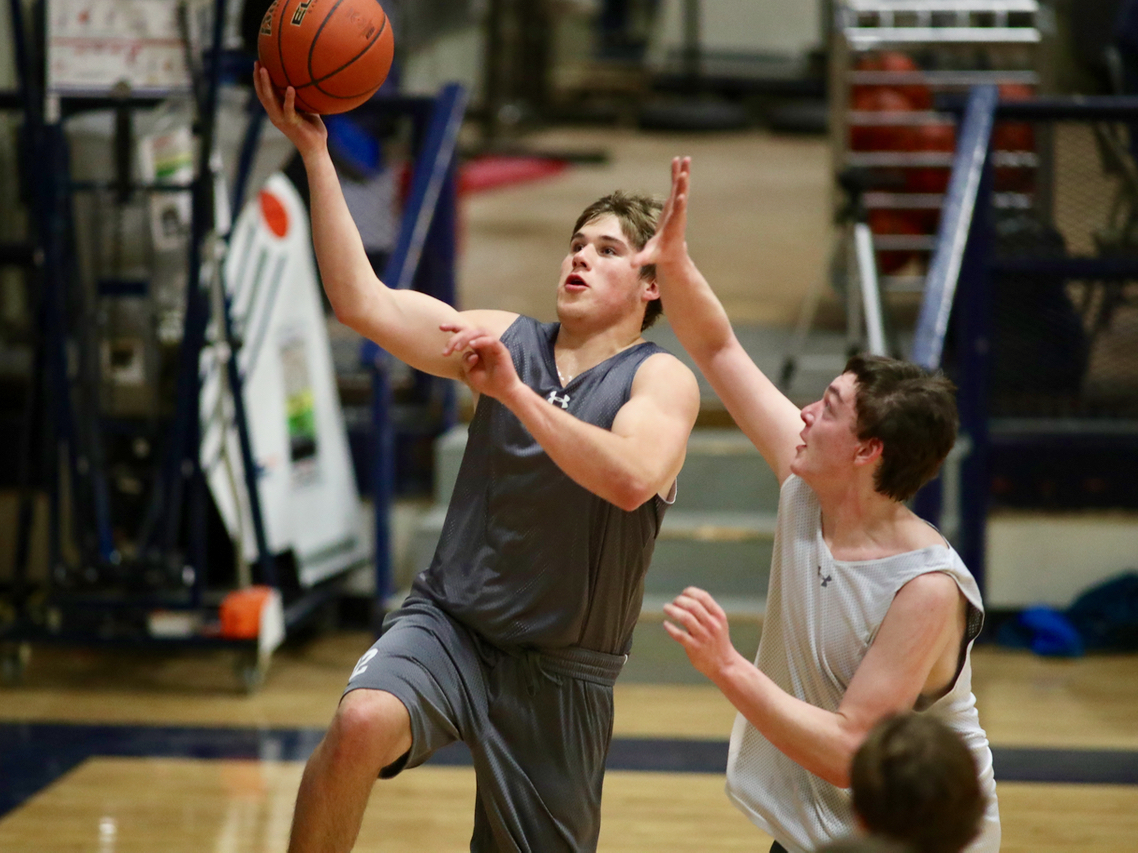 (Braxton Hill finishes at the rim in the Blue Silver game last week. Hill starts this season seventh on the all time scoring list in Anaconda High School history)
With just over three minutes left in their 2016-17 season, Anaconda was leading Malta in the Class B State Championship at Rimrock Auto Arena in Billings. And from that point on, nothing seemed to go their way.
Fast forward to 2017 and the state runner-up is back for redemption.
Anaconda returns their nucleus and this season proves to be even more difficult than last years 17-10 campaign for the reigning Western B champs.
As for goals, head coach Bill Hill isn't reaching for the stars.
"We want a division championship, and we want a chance at the state tournament," he said.
Most would say winning it all after coming so close is the only goal, but Hill admits he has quite the road to travel in order to just get the chance.
With only two spots from the Western B — 6B and 7B combined divisional tournament — the Copperheads will have to navigate through the likes of Loyola and Florence in their own 6B not to mention Bigfork waiting to avenge their divisional semifinal loss from a year ago.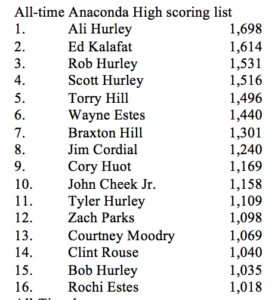 "It won't be easy, we have a very tough conference to get through first," Hill said.
Returning are Anaconda's big three — Braxton Hill, Trent Mikalatos and Bobby Swainston — all seniors, and their accomplishments are undeniable.
To date the 6-foot-2 Hill has recorded one of the more impressive careers in Anaconda High School history. Currently he sits in seventh on Anaconda's All Time scoring list with 1,301 points, just 141 shy of arguably the best athlete in Montana history in Wayne Estes.
If Hill continues on his career average of 18.9 ppg, he will approach and/or eclipse the all-time leader in scoring, Ed Kalafat (1,614), near game 16. That's if teams can hold him to just 19 ppg coming off his 22.7 as a junior.
Then there's 6-7 forward Trent Mikalatos, who recently signed his letter of intent to join the Montana Western men's basketball team in the fall. Mikalatos averaged 13 ppg and led the team in rebounding.
Swainston, a 6-3 wing, also scored in double figures with 10.3 ppg last season. But more than the points, Swainston's defensive effort in the post season is one of the big reasons Anaconda advanced into the state title game for the first time since 1989.
"I need them all to win a state championship, and I need some of the kids to step up in their roles," Hill said. "We lost one of the best role players I ever had in Kayne Cobban. We need to fill his shoes."
One player that may do the trick is 6-5 junior forward Zeke Buck, who was lost last year due to a broken arm early in the season. Now healthy but admittedly not 100 percent, Buck's athleticism and shooting ability will be paramount navigating through the 6B slate.
Other returning players include senior guard Gabe Byrne, juniors Riley Cobban and sophomores Michael Galle and Kylar Gochanour. Junior newcomer Luke Jensen will also see playing time.
Anaconda begins their season tonight at 7 p.m. against 5B Jefferson. Live coverage of the game can be heard at http://copperheadcountry.airtime.pro
Enter ad code here