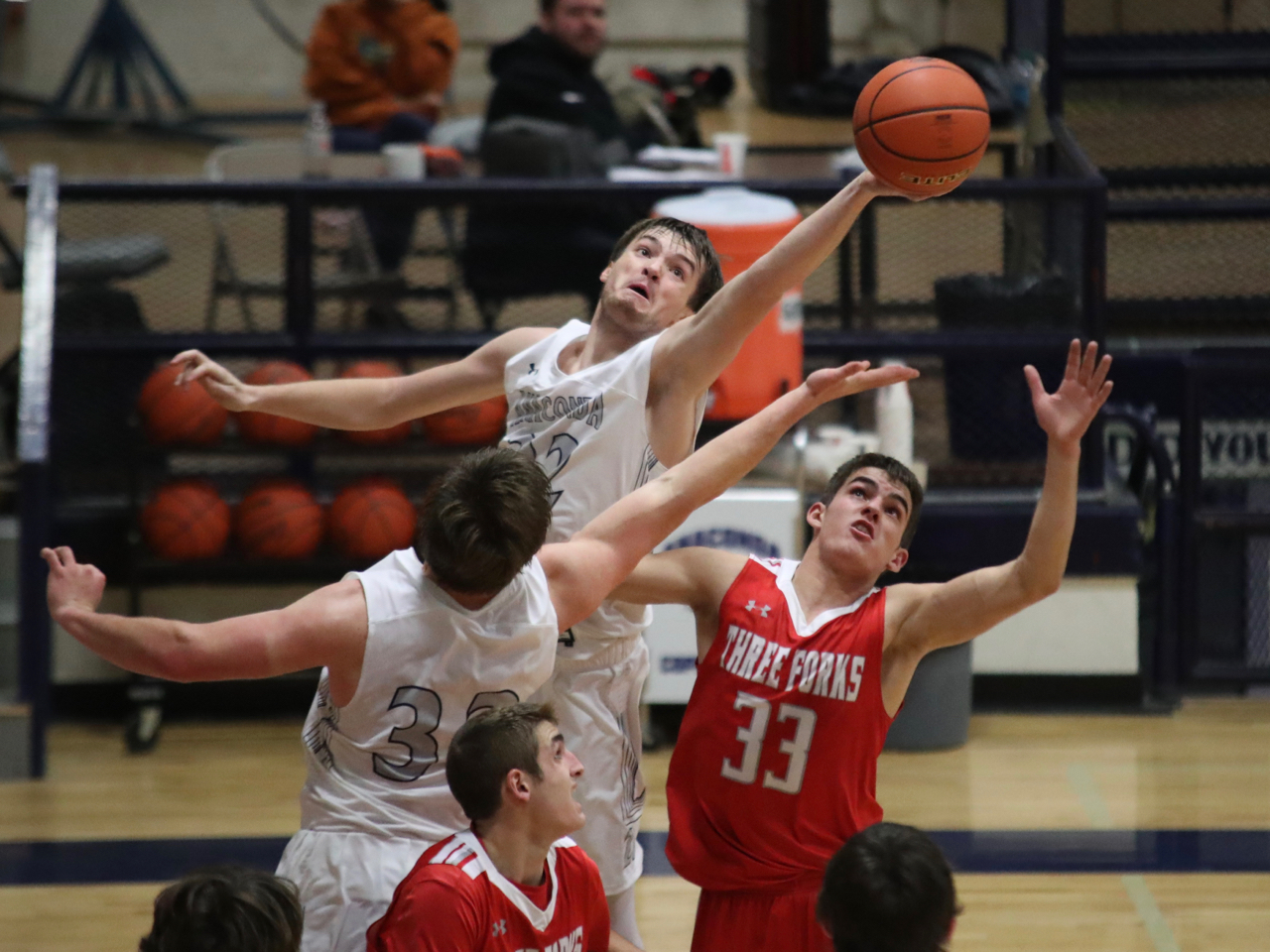 (Trent Mikalatos grabs a rebound during Tuesday's win over Three Forks at Memorial Gymnasium)
On a night where Braxton Hill passed one of the most prolific basketball players in Anaconda and Montana history, it was his combined effort with senior classmate Trent Mikalatos that willed the Copperheads past a stingy Three Forks 64-53 Tuesday night at Memorial Gymnasium.
Hill scored 31 points, the 30th and 31st coming from the free throw lines to tie and then ultimately pass Wayne Estes (1,440) for fourth place on Anaconda's High School's all time scoring list with 1:10 left in the game.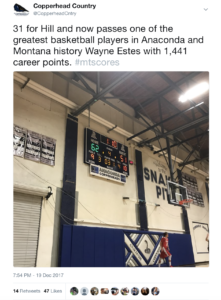 Mikalatos poured in 19 with three treys accentuated by a second quarter dunk that invigorated the team and sent the Snake Pit into a frenzy.
But no matter how much the two seniors put Anaconda on their backs, Three Forks continued to keep it close with the 3-ball. The Wolves drained nine treys led by four from Colter Miller en route to a team-high 21. Sophomore Micaiah Hauser, son of second-year head coach Terry Hauser, added 11.
Off the bench, sophomore Kylar Gochanour scored a career-high 10 along with Gabe Byrne's six and Michael Galle's five. Freshman Braedon Sawyer scored his first career varsity points going 2-for-2 from the free throw line.
Up next for the Copperheads, they will travel to Deer Lodge Thursday for the final game of the 2017 portion of the schedule. That game will be broadcast live on Copperhead Country
Three Forks – 17 10 11 15 – 53
Anaconda – 18 17 11 18 – 64
Three Forks — Colter Miller 21, Macaiah Hauser 11, Bryce Olsen 6, Payden Lynn 4, Daren Miller 5, Corey Yecny 4.
Anaconda (4-1, 1-0) — Braxton Hill 31, Trent Mikalatos 19, Gabe Byrne 6, Michael Galle 5, Kylar Gochanour 10, Braedon Sawyer 2.
Enter ad code here